Nanuq 2021
Photo : Peter Gallinelli

NANUQ 2021 : setting out to discover the islands of the North Atlantic
---
Clean Mont Blanc (June 8, 2021)
As an extension of the Arctic plastic sampling initiated on board Nanuq in 2016, AQUALTI with a consortium of partners has just completed a tour of Mont Blanc, culminating in a summit ascent, to collect unique samples from 18 Alpine glaciers.
While the transport of plastics through the oceans is beginning to be well documented, their laboratory analysis, currently in progress, will provide a better understanding of atmospheric transport. As these are microscopic particles, their presence is practically invisible to the naked eye. Results are expected in a few months...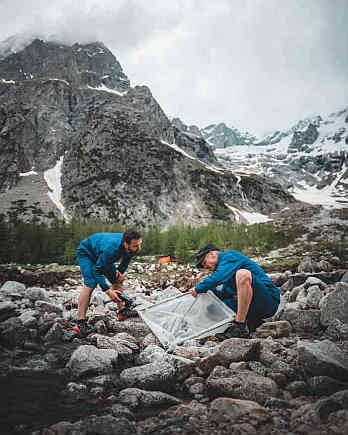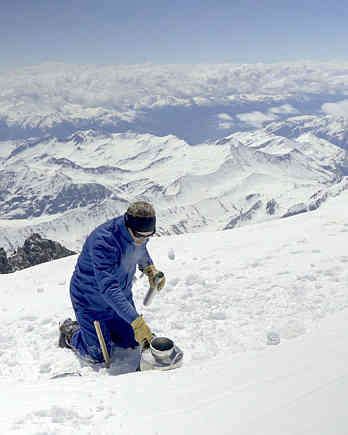 Deployment of a collection net in a glacier outlet, Mont Blanc massif (c) Nicolas Zimmermann | Frederic Gillet collecting microplastics at Mt. Blanc summit
CLEAN MONT BLANC is the result of a collaboration between AQUALTI, the University of Savoie Mont Blanc and the Summit Foundation, a project made possible thanks to the invaluable support of Scott Sports SA, Dolomite 1897, PICTURE ORGANIC CLOTHING, the Sauvain-Petitpierre Foundation, the Fondation Eau Neige et Glace, Gaznat SA and Petzl.
More information ... AQUALTI
---
Low impact science (may 24, 2021)
Low cost, low impact science for extreme environments
Curiosity has driven mankind to the highest peaks, the deepest ocean rifts and even into space. This attraction to go beyond the boundaries of the known has opened up opportunities to settle and prosper on every continent and to make human life possible where only wildlife exists.
If the high latitudes and more generally the polar regions have long resisted exploration, their discovery is due to the courage and determination of explorers, but is also closely linked to technological progress.
Historically, "the goal justifies the means" and all these expeditions have one point in common: they mobilise considerable amounts of resources and consequently have a non-negligible environmental impact.
In this respect, the first ascent of Mount Everest by Hillary and Norgay in 1953, with a team of 20 people and hundreds of porters, making intensive use of equipment and oxygen, is emblematic. It has become known as the "Himalayan style". Half a century later, mountaineers successfully climb the same peak in one day with ultra-light equipment and without oxygen, in the "Alpine style".
Technological progress is not slow in developing either. Whereas in the past scientific equipment was bulky and consumed a significant amounts of energy and resources, recent developments often allow for lightweight, robust, autonomous and smart solutions that can fit in a backpack or even a wristwatch.
These developments indicate that we are witnessing a real paradigm shift: quality science on board small ships is now not only possible but also complementary to traditional expeditions. It could provide innovative approaches to accessing new knowledge that conventional expeditions cannot, as such small budgets allow for more and longer campaigns.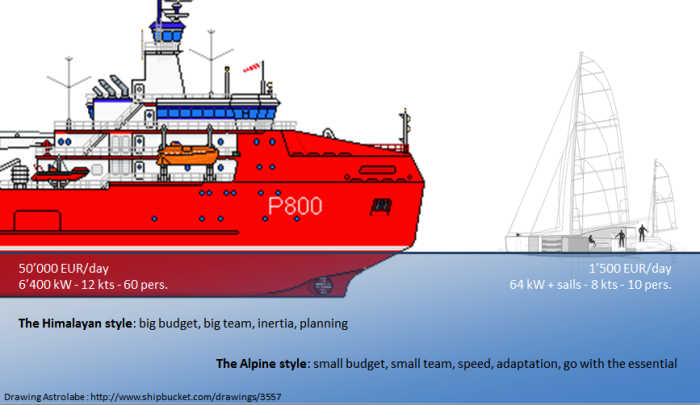 On the same scale, the Astrolabe and Nanuq
Small sailing vessels [*] are now robust, safe, comfortable and self-reliant, and moreover, they are very agile. They are an efficient alternative or at least a very complementary means to conventional logistics in the field of polar sciences and, more generally, in exploration of remote or isolated ocean regions...
Read the full article here...
[*] sailing vessels < 25m LOA
Extract from P. Gallinelli[a], F. Gillet[b], Low-cost and low-disturbance science in extreme environments, GREAL reports, 2021
a Association Acapela (Geneva, Switzerland)
b NGO Aqualti (Chambery, France)
---
Agenda NANUQ 2021 (May 01, 2021)
The 2021 agenda is taking shape. Need to get away? Looking for adventure? The NANUQ 2021 project sets out to discover the islands of the North Atlantic. See the agenda here...
---
GREALtechnical report (April 23, 2021)
Publication of the GREAL technical report, a collection of articles from the Polarquest 2018 expedition on board NANUQ:

V. DI ZENZO
La Spedizione Polare di Salomon August Andrée e i suoi resoconti in Italia fra il 1896 e il 1930

P. GALLINELLI E F. GILLET
Low-cost and low-disturbance science in extreme environments

O. PINAZZA ET AL.
The PolarquEEEst Experiment: Measurements of the Cosmic Muon Flux from 350 to 820 Latitude North

R. DEMONTIS
Generazione e analisi dell'indice di vegetazione normalizzato (NDVI) ricavato dai dati acquisiti tramite rilievo fotogrammetrico speditivo con UAV durante la
spedizione Polarquest2018 in prossimità di Longyearbyen, Spitsbergen, Svalbard

E. FALQUI
Arte e divulgazione della scienza. Curatela e progetto espositivo di una mostra per Polarquest2018

E. LICITRA
Comunicazione - Il racconto di un viaggio
---
Happy 2021 (December 24, 2020)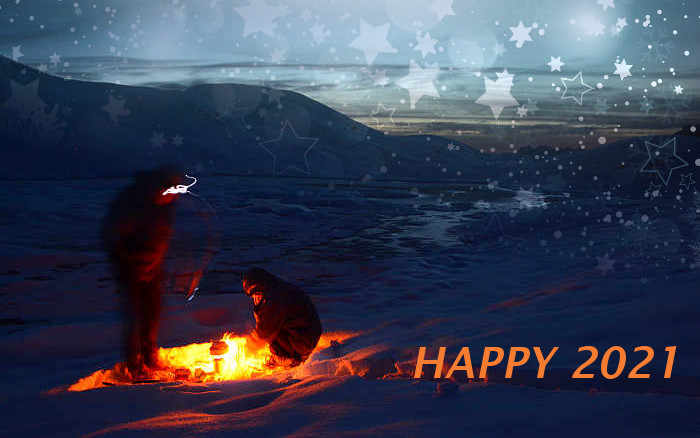 Alpine winter camp - testing a prototype wood stove (photo Kalle Schmidt)
The whole Nanuq team wishes you an excellent and adventurous year 2021 !!
---
The sound of ice (December 20, 2020)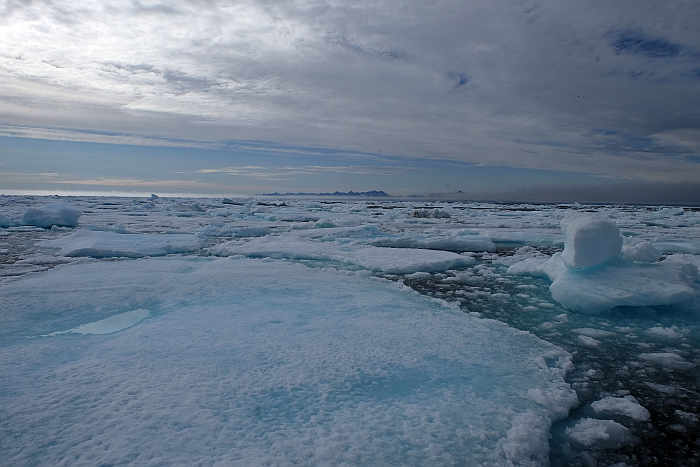 A sound sample of the ice noise. Far from being silent and motionless, the world of ice is very much alive.
Make yourself comfortable, put on a headphone and relax....
Recording and photo : Kevin Monneron
---
NANUQ : documentary (December 16, 2020)
NANUQ, An Arctic Journey From Past to Future

90 years later in the Svalbarb archipelago, Nanuq, a special sailboat designed to be sustainable and passive, fueled by an unconditional love for knowledge, for progress, and for scientific research, crosses stretches of sea free of ice for the first time in decades following the journey of the Italia airship.

About the film

Length: 55 min

Director: Emanuele Licitra

Co-director: Paola Catapano

Production: Guia Invernizzi Cuminetti for Addictive Ideas

Involved TV Channel: Mediaset (RTI SpA)
---
Announcement : conference (Monday December 14, 2020)
The Nanuq 2020 Blosseville, Greenland costal inventory : A sailing expedition mapping Arctic regions, climate change and greenhouse gases.
This Monday, 14 December @ 13h – 14h : ZOOM https://unige.zoom.us/j/9922098225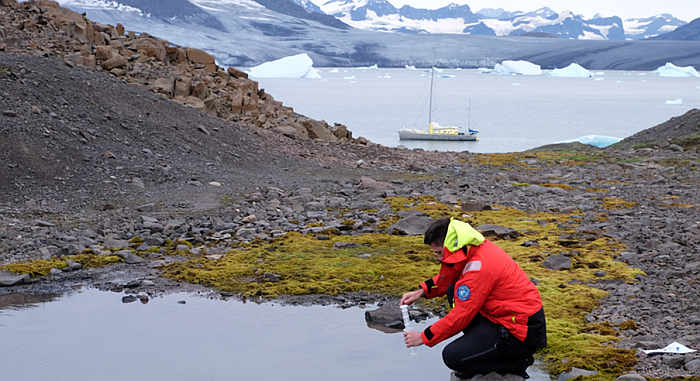 Methane sampling @ Nansen Fjord - Nanuq2020 - photo Ophelie Selz
Peter will present their team's preliminary 2020 expedition report, and introduce their boat, the various interesting projects and activities, and life onboard Nanuq. I will show some (very) preliminary results from measurements Peter's team collected for us. The Aquatic Physics group began a collaboration with Peter and his organization exploring the Arctic region performing mapping and measurements of the Arctic seas as well as exploring small coastal arctic ponds/and lakes. Some of these lakes are newly accessible due to increasingly ice-free waters. Among the many measurements performed by Peter's team, we will add methane/CO2 measurements as well as temperature/salinity/oxygen monitoring.
Hope to see you there for a picturesque presentation and relaxing discussion. Please forward if I forgot someone.
Best regards, Daniel McGinnis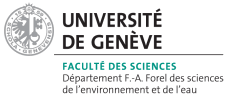 ---
A geographical report - book (November 16, 2020
The Polarquest2018 Arctic expedition
A geographical report

"As any other good journey report, this one too begins by presenting the scientific rationale of the expedition in its geographical context, clearly stating the reasons for the presence of a geographer in the crew. Then comes the account, derived from the expedition logbook and from other texts written during the operations. Several scientific
activities – full-blown research work and methodological tests – are then presented and discussed, putting forth some relevant results of surveys and visits conducted in various
«points of interests» of the Svalbard Islands."

Gianluca Casagrande, Associate Professor of Geography at the European University of Rome and Scientific Director of the Geographic Research and Application Laboratory (GREAL), retraces the historical, scientific and georgraphical context of the Plarquest2018 expedition beyond Svalbard on board Nanuq.

Free access at the Italian Geographic Society
---
Mare Plasticum - The Plastic Sea (November 11, 2020)
Presented at the Genoa Science Festival 2020, this newly published book covers plenty of fascinating science, such as insights into the impacts of plastics and microplastics.

Mare Plasticum - a multidisciplinary approach to plastic pollution of the oceans, seas, and rivers and to potential sustainable solutions

"This book, written by a multidisciplinary team of authors comprising scientists, artists and communicators, explores one of the most pressing issues of our time – the menace plastics pose to marine environments and organisms. It takes readers on a journey that begins on the beaches of Galicia..." up to 82° of latitude north on board Nanuq during the Polarquest2018 expedition...

More information at Springer...
---
Announcement : Seminar - Master in Digital Earth and Smart Governance (October 26, 2020)


Blosseville coast as seen from Nanuq, waiting in the pack ice. Photo Kevin Monneron
NANUQ2020 Arctic Expedition - First comments and results
PROGRAMME
Institutional greetings by Carla Masetti, Director, Laboratorio Geocartografico "G. Caraci", Università Roma Tre
Expedition's geographical overview by Gianluca Casagrande, Scientific Director, GREAL, Università Europea di Roma
NANUQ2020 – A preliminary report by Peter Gallinelli, Expedition and Project Leader, NANUQ2020
An innovative probe for oceanographic research by Jonathan Selz, Onboard Scientist, NANUQ2020
Comments from the lab: a word on vascular plants observed by NANUQ2020 by Daniele Angeloni, Master in Digital Earth e Smart Governance, Università Roma Tre
ONLINE SEMINAR - Monday October 26th, 14.30 - https://qrgo.page.link/ABRSW

---
Memorial flag at the italian geographic society (October 19, 2020)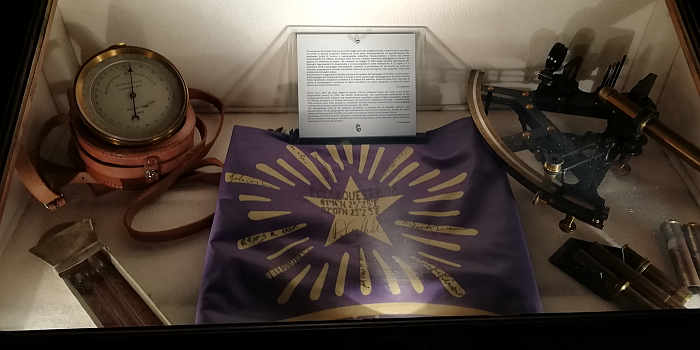 IGS flag at the Italian Geographical Society at Palazzetto Mattei, Rome, Italy, photo Gianluca Casagrande 2020
Polarquest2018-borne IGS flag in an illuminated display box at the headquarters of the Italian Geographical Society at Palazzetto Mattei, Rome, Italy. The flag is with the accompanying text and surrounded by historical navigational instruments from the Society's heritage. As you may recall, the flag was with us during the expedition and we signed it on the quay at Ny-Alesund. It has been on display since our return in September 2018 and it is still there.
"Ninety years after the polar flights of airship ITALIA, conducted under the aegis of the Italian Geographical Society in 1928, the Society institutionally and operationally participated in the Polarquest2018 Arctic research and communication expedition, onboard high-sustainability sailboat S/Y NANUQ. Equipped as a floating laboratory, the small yacht
-displacing 23 tonnes - travelled about 3500 nautical miles from Iceland to continental Norway reaching Greenland and circumnavigating Svalbard Islands between July 22nd and September 4th, 2018.
The international crew of 10 members developed a complex set of scientific activities and documentation on the geographical and environmental status of the visited sites. During the entire voyage this flag, signed by NANUQ's crew and by descendants of the crew of airship ITALIA, was onboard with the scientific equipment. It symbolically testified the Society's enduring mission and will to accompany and support scientific research and geographical culture, towards a better protection of our planet for future generations"
All the best!
Gianluca
---
Plastics at the end of the world (October 10, 2020)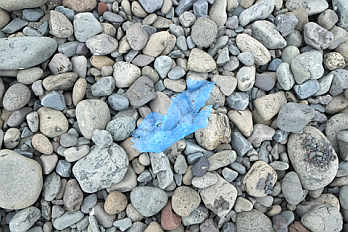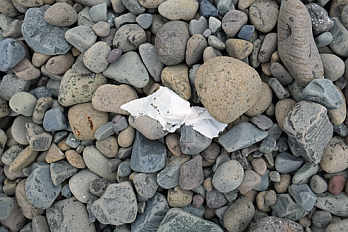 Plastics (10cm debris) on the beach of Nansen Fjord on the east coast of Greenland 2020 ... terrible! Photos Kevin Monneron
Plastics visible to the naked eye are present in the remotest parts of the planet, transported by ocean currents. This is a terrible observation and it is no longer a novelty, alas ... but what about plastics transported by atmospheric currents? FLYING PLASTICS will try to answer this question. In collaboration with the NGO AQUALTI and the University of Mont-Blanc Savoie, the Nanuq team has taken part in the development of an innovative sampling protocol, to be followed...


Mantamaran 2.0, by AQUALTI 2020, photo Marie Raison 2020
---
Scientific Expedition NANUQ2020 (September 28, 2020)
The accont of th expedition can be found here https://www.nanuq2020.eu/
Additional and short messages have been published on https://twitter.com/nanuq2020
The 'playground'.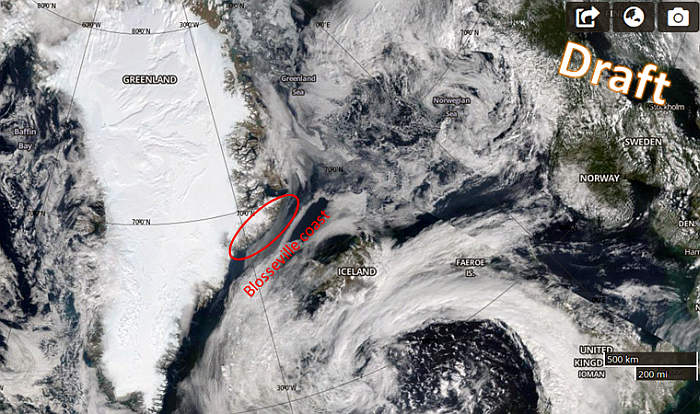 Source: https://worldview.earthdata.nasa.gov/ . showing a typical depression off the coast of Ireland!
Scentific projects
Photogrammetry and digital terrain models
Botanical inventory (exploration)
Temperature and salinity profiles
3D digital model of rib sections
Methane abstraction from fresh water
Continuous monitoring of surface water temperatures
Surveys of the thermal sites could not be carried out due to the impossibility of visiting the areas of interest in 2020.
The crew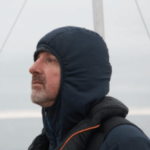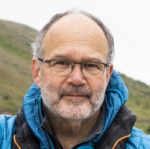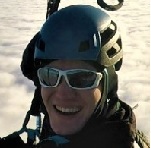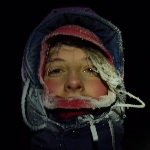 Peter Gallinelli: expedition leader and skipper
Thierry Selz: co-skipper, doctor
Gaël Frochaux: engineer, DST probe operator and paraglider pilot
Lisa Gallinelli Gonzalez: logistics, navigator and drone operator, psychologist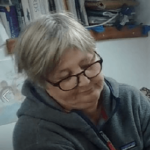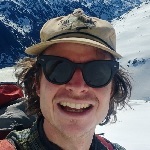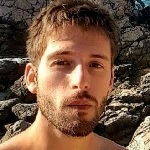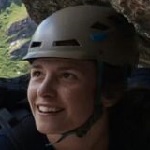 Dolores Gonzalez: logistics and navigation
Claudio Limacher: engineer, photo survey and instrument operator
Kevin Monneron: engineer, freediver, underwater recovery
Sophie Ruch: flora survey, drone and paraglider co-operator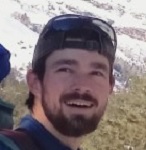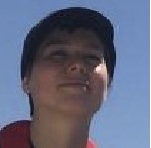 Jonathan Selz: engineer, DST probe developer
Ophelie Selz: official expedition photographer and artist
Tamara Strasser: mountaineer, photographic survey and instrument operator
Ground team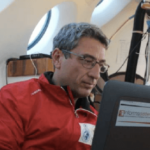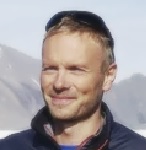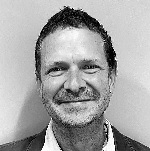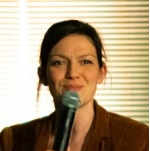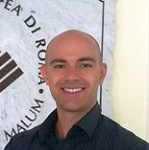 Gianluca Casagrande: associate professor, geographer, European University of Rome and Geographical Society of Italy
Frederic Gillet: environmental engineer, scientific coordinator, Aqualti
Daniel F. McGinnis: Associate Professor, Aquatic Physics, F.A. Forel, University of Geneva
Dorothée Adam-Mazard: director, audiovisual productions of the expedition
Alessandro Prunesti: Senior Lecturer, European University of Rome, web developer
The partners
See the dedicated page...
The boat
NANUQ - Integral 60'- see the dedicated page...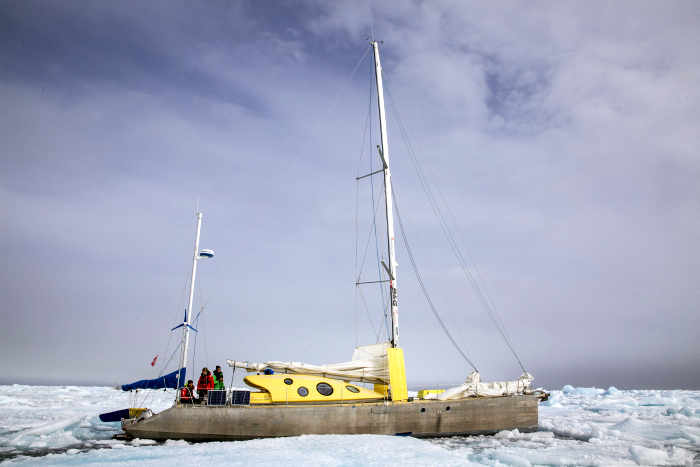 Nanuq, waiting in the pack off the coast of Blosseville, August 2020. Photo Opelie Selz https://ophelieselz.com/
Navigation
Bergen - Seydisfjordur (IS): route to the N to avoid a low-pressure system: 725 miles in 3.5 days
Seydisfjordur - Greenland: including big detour to avoid extended ice fields: 565 miles
Greenland - Isafjordur (IS): wanderings and zig-zags in and around the ice and back to Iceland: 435 miles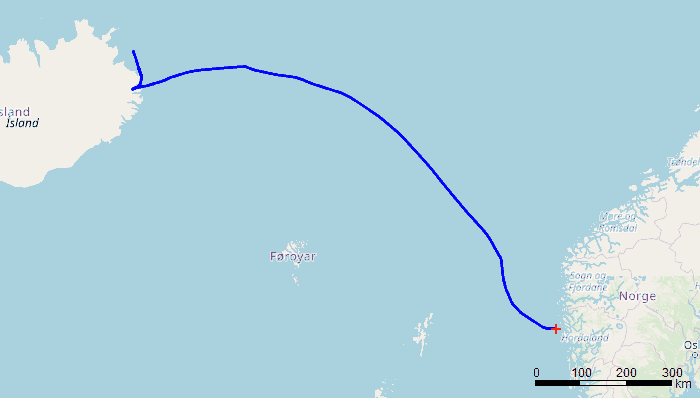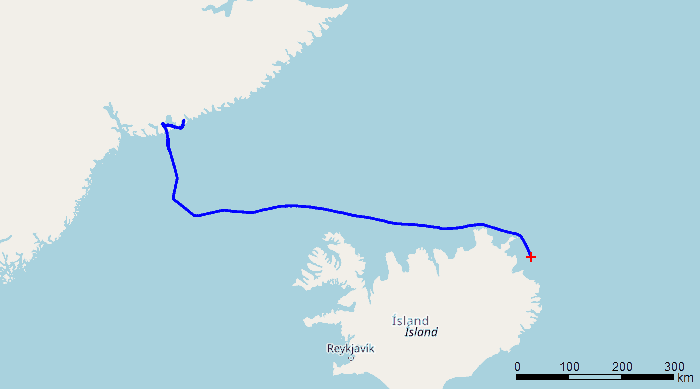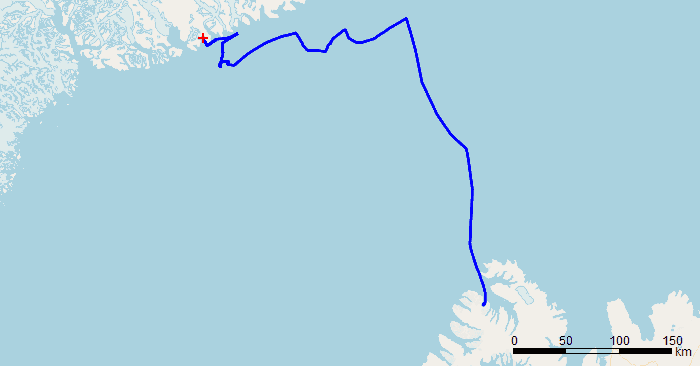 GPX file using GPXsee with OSM maps
Enjoy reading!
---
Overview expedition follw-up (September 15, 2020)
The following posts can be found on the original website maintained by Gianluca Casagrande and Alessandro Prunesti.
Please follow the links here below or go to the main portal at https://www.nanuq2020.eu/

August 16, 2020 : https://www.nanuq2020.eu/2020/08/16/stubborn-boats-open-minds/

August 15, 2020 : https://www.nanuq2020.eu/2020/08/15/letting-images-tell-stories-2/

August 12, 2020 : https://www.nanuq2020.eu/2020/08/12/nanuq2020-mission-complete/

August 12, 2020 : https://www.nanuq2020.eu/2020/08/12/expedition-update-2/

August 10, 2020 : https://www.nanuq2020.eu/2020/08/10/arctic-expeditions-in-the-age-of-covid19/

August 9, 2020 : https://www.nanuq2020.eu/2020/08/09/nanuq2020-has-arrived-at-isafjordur/

August 8, 2020 : https://www.nanuq2020.eu/2020/08/08/an-eye-in-the-sky/

August 7, 2020 : https://www.nanuq2020.eu/2020/08/07/science-in-progress/

August 6, 2020 : https://www.nanuq2020.eu/2020/08/06/expedition-update/

August 5, 2020 : https://www.nanuq2020.eu/2020/08/05/a-cold-war/

August 4, 2020 : https://www.nanuq2020.eu/2020/08/04/an-ordinary-day-in-arctic-business/

August 1, 2020 : https://www.nanuq2020.eu/2020/08/01/and-now-greenland/

August 1, 2020 : https://www.nanuq2020.eu/2020/08/01/a-challenge-ahead/

July 30, 2020 : https://www.nanuq2020.eu/2020/07/30/stop-over-in-grimsey/

July 29, 2020 : https://www.nanuq2020.eu/2020/07/29/first-dst-probe-test/

July 29, 2020 : https://www.nanuq2020.eu/2020/07/29/heading-to-grimsey/

July 28, 2020 : https://www.nanuq2020.eu/2020/07/28/getting-ready-for-a-scientific-adventure/

July 29, 2020 : https://www.nanuq2020.eu/2020/07/29/letting-pictures-tell-a-story/

July 28, 2020 : https://www.nanuq2020.eu/2020/07/28/first-leg-complete/

July 27, 2020 : https://www.nanuq2020.eu/2020/07/27/approaching-iceland/

July 26, 2020 : https://www.nanuq2020.eu/2020/07/26/shortening-the-night/

July 25, 2020 : https://www.nanuq2020.eu/2020/07/25/from-east-to-west/

July 25, 2020 : https://www.nanuq2020.eu/2020/07/25/crossing-initiated/
That's it folks!
---
Heading towards Greenland (July 30, 2020)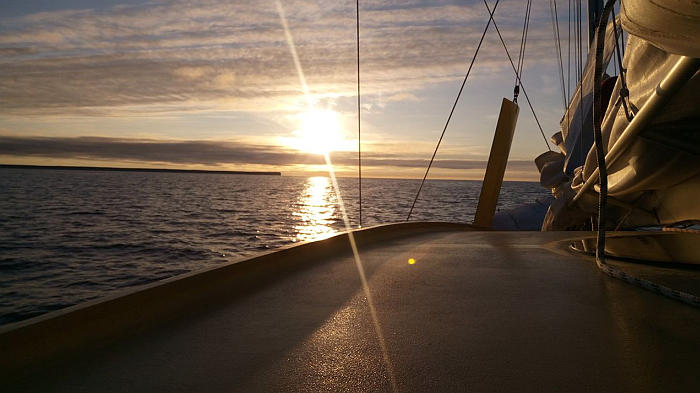 Nanuq heading towards the Arctic circle, Langanes - NE tip of Iceland (photo Peter Gallinelli)
To all ouf you who follow Nanuq, the latest NEWS are now available on:
Wishing you a wonderful summertime
Crew Nanuq 2020
---
Nanuq 2020 : scientific project (June 08, 2020)

What

Why

How


Who

When

Visibility

A scientific expedition to the east coast of Greenland : scientific agenda

Unique knowledge for environmental sciences, environmental conservation

Observations and sampling in a hostile environment combining glacial navigation, mountaineering, diving, advanced technologies and communication

Consortium of two non-profit associations and various academic partners : partners

Summer 2020 : agenda

Internet, animated notebooks (videos), publications, conferences, exhibitions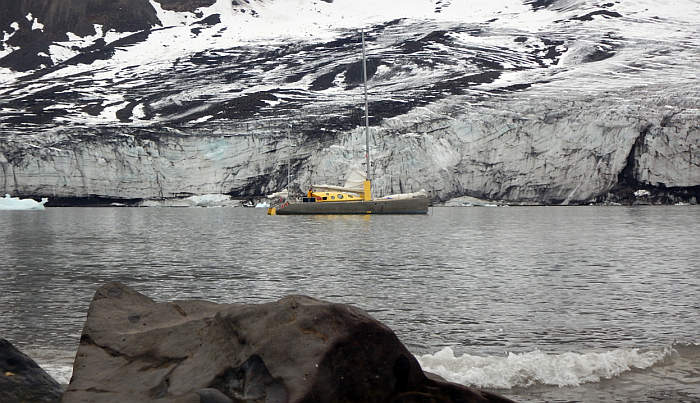 Nanuq anchored in Grivel Bukta, Blosseville coast, 2017 (photo: Gérard Baudraz)
Born from the collaboration of two non-profit associations, Nanuq 2020 is a scientific mission on the coast of Blosseville, on the east coast of Greenland, scheduled for the end of July 2020.
The objective of this expedition will be to collect and document samples of micro- and nano-plastics near the Greenland coast.
At the same time, and in anticipation of future climate change, we are taking advantage of our presence in the field to take a 'snapshot' of the coastline by creating a 3D digital model using innovative technology and a biological inventory.
The documentation of terrestrial and marine thermal springs in the sector will open up new perspectives for research projects in the future.
Based on a sailing boat with a low ecological impact, the means implemented for this mission will be as respectful as possible of the places visited and will be part of a 'solutions for sustainable development' approach.
More to come, keep in touch ... or get involved!
---
2020 - Covid & Imaqa (April 21, 2020)
This unmapped territory that we cross reminds us that we always need plans B and C ... when all goes well we tend to forget it. We navigate by sight and this way of progressing is reminiscent of glacial navigation: from a distance it looks blocked and it is only when we get closer that we eventually see a free passage; it can open at the last moment and even close in again for good.
To describe this reality, the Greenlandic language has the word 'imaqa' ... it is not our 'maybe' but rather 'it will happen when conditions permit', a state of mind whose wisdom we have long since forgotten.
If initially we were to convoy Nanuq to Iceland in early spring, travel to Norway is interrupted until further notice and the future remains uncertain. In any case, ship and crew are ready and eagerly await the deconfinement and the best opportunity to cast off for Nanuq2020.
2020 is also an exceptional year in terms of ice; the extent around Svalbard this year is significantly higher than the average of 1981-2010 and has even approached a maximum over the same period. It is at this stage very difficult to predict what the implications will be for the Nanuq 2020 season, except that the East Greenland Current will be affected. However, this does not detract from the overall trend towards a continued decrease in the Arctic ice cap, as the following graph reminds us.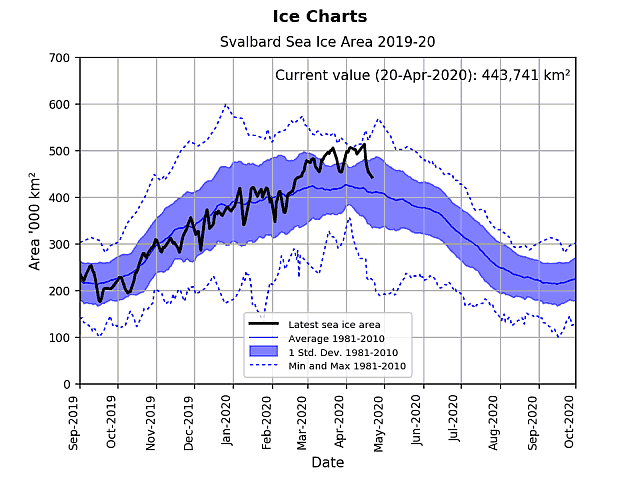 Graph: extent around Svalbard (source : https://cryo.met.no/)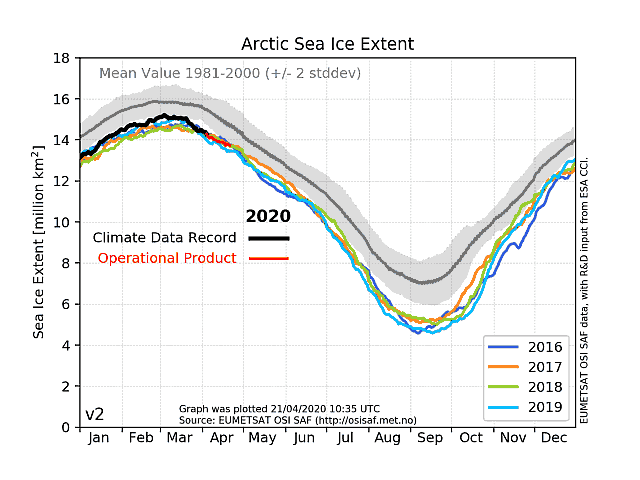 Graph: Extent of the entire Arctic (source https://cryo.met.no/)
Keep in touch! Keep healthy!
Translated with www.DeepL.com/Translator (free version)
---
Nanuq 2020 mission patch (March 1, 2020)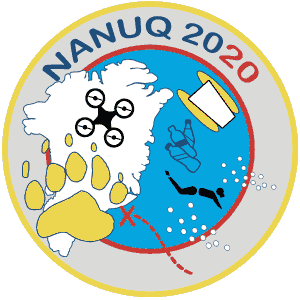 to come ...
---
News : older articles ... 2019 (archive)