Photo credits : oceaneye - manta trawl and microplastic samples

The passive igloo - a sailboat dedicated to science

The passive igloo offers accomodation to master students, doctoral students and researchers motivated by an interest and passion towards research in the Arctic regions, whether sailing in the summer during escorts or during Arctic winters during which the vessel is stationary in the ice.

Several scientific partners are enroled : Météo-France, Oceaneye, University of Brest, University Savoie Mont Blanc, INRA and University of Geneva. Topics of study cover weather, climate, biodiversity and pollution of the oceans. The passive igloo is also involved in Isaaffik, a new gateway connecting Arctic research, education, consultancy and logistics.





---
Scientific agenda 2015/16
The passive igloo participates in different scientific collaborations. This page is intended to serve as a platform for information on planned or ongoing activities. For more information, please get in touch.
Météo-France

In order to improve the quantity and quality of atmospheric data collected from across the globe, scientists seek to maximize the number of measurements, especially at sea. These data include improving weather forecasts and safety at sea.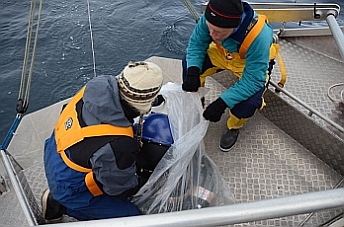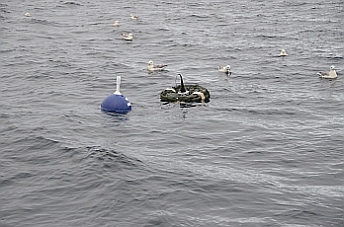 Deployment of SVP drifeter buoys, Nanuq Greenland 2015 (photos Alain Berthoud)
"SVP drifter data buoys" collect and transmit data via satellite:
atmospheric pressure

the temperature of the sea surface

speed and direction of surface currents

the CTG waves

and wind speed
The goal is to deploy additional drifting weather buoys on different areas during the trip. In parallel, the boat will be equipped with an integrated weather station that will provide a complete data set at each full hour via Iridium SBD. These data can be viewed in near real time.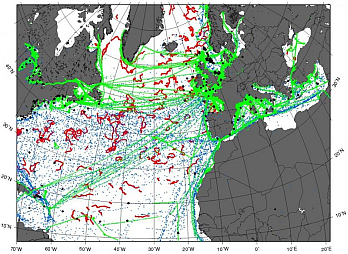 Chart : air pressure observations over the sea surface in November 2013, red dots = drifting buoys, source EUMETNET
Web : http://www.eumetnet.eu
Oceaneye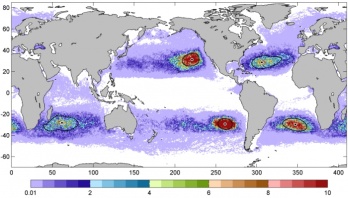 Carte : modèle de prédiction numérique de concentration de débris plastiques flottants. Source: Maximenko et al. (2012)
Five huge waste zones about the size of a country float on the ocean surface. They are called the seventh continents or waste patches, accumulation areas. They are mainly composed of small plastic debris from fragmentation of waste. The cause of their existence is human pollution that is transported by ocean currents. This phenomena is now no longer a hypothesis but a scientific certainty.
The objective is to determine the quantity of plastic contained in the sea water along the voyage.
Web : http://www.oceaneye.eu
University of Brest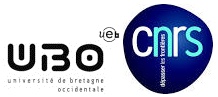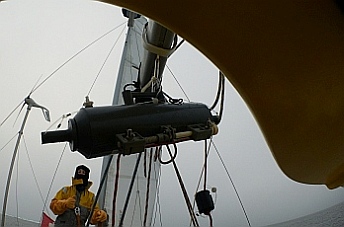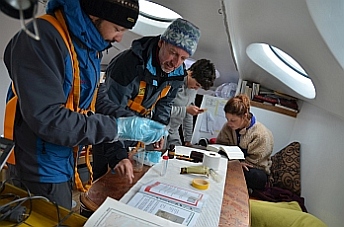 Niskin bottle and work in progress on board, Nanuq Greenland 2015 (photos Sylvie Margot)
a) Diversity of microorganisms:
The structure, function and biodiversity of Arctic marine ecosystems are influenced by several key factors and are very well adapted to the extreme conditions of their environment. However, impacts of climate change on Arctic ecosystems are expected to be very strong and more rapid than any other biome on earth. As phytoplankton is the basis of many food webs, it is absolutely crucial to study their spatial distribution and diversity. Moreover, there are concerns that the nature of algae blooms in the Arctic could be modified, especially due to the sea- ice retreat, or ocean acidification. It is proposed to investigate phytoplanktonic diversity by sampling regularly along the cruise line, with an emphasis around the coast of Greenland.
b) Macronutrients (nitrates, phosphates and silicates)
In the Arctic, important shifts in nutrient availability took place in recent years. As a result, significant changes in primary production of Arctic Ocean waters occurred. As complementary measurements to microorganisms diversity, nutrient distribution will be investigated along Nanuq voyage, with a focus on total dissolved inorganic nitrogen, phosphorus and silicon.
c) Trace Elements
Phytoplankton growth requires carbon, light and macronutrients). In addition, trace elements play a key role : some are essential for living organisms (e.g Fe, Mn , Cu, Ni , Zn , Co), while others are toxic (eg Pb and Hg). The structure, function and biodiversity of marine Arctic ecosystems may be affected by any bioavailability variation of these trace elements. Their distribution is tightly linked to the variation of their inputs, such as sea-ice or melting glaciers.
The goal is to quantify some trace elements (total dissolved mercury and particulate Fe, Mn, Al) in different areas along the voyage, with an emphasis around Greenland

University Savoie Mont-Blanc

Laboratoire Chimie Moléculaire et Environnement (LCME)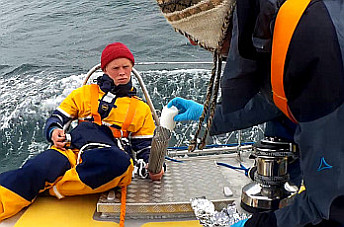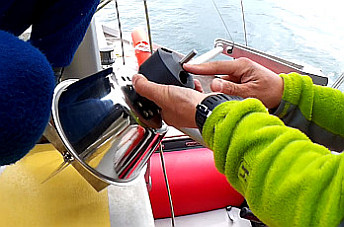 S etup of passive absorbers (water - left; air - right), Nanuq Iceland 2015 (photos Alain Berthoud)
a) PCBs in water
b) PCBs and PAHs in air
University of Geneva

The measurements we propose to conduct intended to analyze the different components of the solar radiation balance, thermal infrared, heat flux through the ice, and the fluxes of sensible and latent heat at the interface between the surface and the lower layers of the atmosphere.
The instruments used are:
a radiometer covering the solar spectrum and thermal infrared radiation
one (or two) solarimeter(s) for the radiation part
a flux-meter for the heat flow in the surface
a sonic anemometer
thermometer and hydrometer for turbulent atmospheric flows
Purpose:
Analyze local heat transfer in a polar environment
Establish a heat balance of each of the fluxes to better understand the polar climate on the ice; also, if possible, improve the calculation of turbulent flow patterns.
Web : http://www.unige.ch
The passive igloo project
The 'passive igloo' is the cabin of a 60' polar expedition sailboat. The design is inspired by concepts and techniques used in low-energy high performance buildings.
The aim is to pass through an arctic winter in a self-sufficient way and without the use of non-renewable energy in order to explore how simple and robust constructive and technical solutions may to challenge low-cost energy scarcity in a credible way. Transposed to temperate climates, the experience feedback will be useful to outline the habitat of tomorrow.


The real passive igloo - end of winter, Nanuq Greenland 2016 (photo Peter Gallinelli)
Measured variables:
indoor air temperature: living area (floor, ambient, ceiling), cabins, buffer zone
inner and outer surface temperatures and heat flux trough the thermal envelope of the igloo
indoor air quality : relative humidity and CO2 levels
air change rate
energy produced, consumed
occupancy rate, activities
external environment: temperature, relative humidity, solar radiation, wind speed
Scientific purpose : to observe and describe the comfort/energy ratio, document comfort and hygrothermal operation and establish a detailed energy balance.
Web (internal links) :
conclusions ... (to come)
---
Your project interests us - our project interests you
Welcome on board! Designed and built to cope with the most difficult navigation and climate conditions, the boat offers a place to live and work for a crew of 6 in complete self-sufficiency for up to 2 years.
Summer

During the arctic summer and during the travel from Europe to the winter camp and back, samples will be taken and measurements be carried out. The route will be adapted to specific needs.

Winter

During the long lasting winter months, the boat serves as a stationary base-camp, moored in a sheltered place in the northern arctic Canada. During that period, monitoring of atmosphere, ocean water and sea ice, as well as on land and glaciers, will be carried out.
Using wind for propulsion, but also to provide energy for life on board especially during long stays in cold climates, the passive igloo is a means of transport and a place to live and work with low environmental impact. It lends itself ideally as a base camp for observation and environmental monitoring projects in the most remote and inaccessible areas.
Practical
The permanent crew consists of two experienced sailors who handle navigation, boat and global logistics. The extra carrying capacity is 8 (10) people in summer, 4 (6) in winter.
In addition to the crew and common equipent, the boat can carry a payload of 1-2 metric tons of scientific equipment for a volume of several cubic meters. Depending on requirements, the large multi-purpose cabin can be converted into an extra laboratory. A large rear deck at the water's edge with attached garage greatly facilitates the implementation of ocean measurement equipment. Electric power is available to operate scientific equipment. Due to the use of renewable and clean energy, the immediate environment remains completely clean and unpolluted which is an important feature for environmental monitoring.
Equipment
Basic amenities are available such as: sleds, kayaks, dinghy. Divers also can be arranged for on request. Drill and ice saws facilitate access to water under the ice. Repatriation of of samples is possible every 15 days, during stopovers. In addition, a monitoring system and a weather station are available board. Routine measurements include:
temperature and relative humidity of air
surface water temperature
solar radiation (horizontal, global)
wind speed and direction (sonic anemometer)
The aim is to provide useful data for analysis of energy performance of the passive igloo. This is an integral part of the project (read more...). These data are also useful in the context of EUMETSAT and for the documentation of sampling conditions in different collaborations.
All data are georeferenced (GPS). A datalogger (CR1000) is used for the acquisition, processing and storage. The programming of the station (measurement protocol) can be adapted to the application. A drone is scheduled for aerial photography and airborne measurements (contact us).
Scientific coordinator
Frédéric Gillet : contact...
---
Arctic Gateway: Isaaffik
Isaaffik is a new web platform and gateway connecting Arctic research, education, consultancy and logistics. The 'passive igloo' is proud to be associated with arctic research by offering logistics opportunities to international research teams.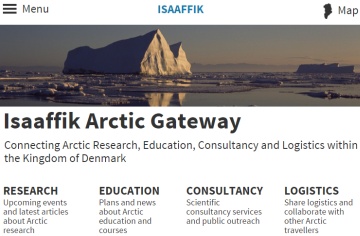 Web : http://www.isaaffik.org
---