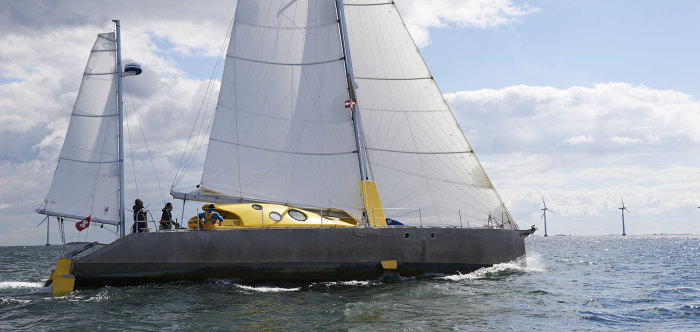 Grand Integral, a fast and robust cruiser: 10 knots (photo © Michael Amme 2015)
Nanuq, the polar bear in the Inuit language (nanoq): she has neither the color nor the appearance, but is tempered to sail in the Arctic regions. Nanuq is a Grand Integral, a 60-foot vessel, the third in the series, designed, built and skipped by Peter and his team. Developed from the 'Integral 43', she is a cruising yacht offering more space, independence and a large payload.
---
Visit Nanuq
Clic on camera of choice ...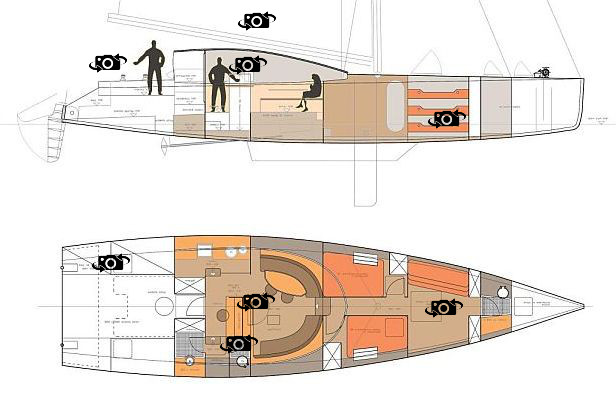 ---
Specifications
Type: Integral 60
Launched 2014
Length: 17.80m
Beam: 4m70
Sail area: 165mē jib, main and mizzen
Displacement: 18t

Draft: 1.45-2.40m
2 double cabins with bunk for extra person plus crew cabin with 6 berths
Engine: inboard Diesel 85hp
Fresh water tank: 800l
Diesel tank: 1200l


Grand Integral - conveniant beaching in Morgat(photo © Peter Gallinelli 2014)
---
Visit on board
---
Construction
Visit the photo wall ... here
The boat is built according to the design of the Grand Integral. Due to its size and robustness, the design is ideal for the project. The metal hull was built by the boatbuilders Dujardin Icofrance in France. Peter and his team in Geneva built the "Igloo".

Rotation Of Nanuq's Hull from Matt Ryan on Vimeo.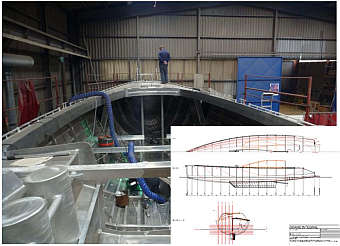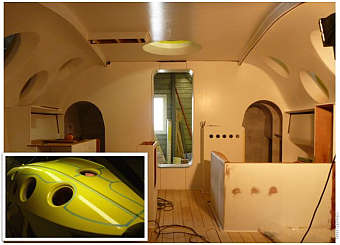 This is the interior of the "Igloo" during the last stage of construction.
The "Igloo" includes the roof and living quarters. It is built using the sandwich technique: lightweight shaped high performance polystyrene blocks that were specially produced by our partner swisspor are assembled to make the sandwich core (thermal conductivity 0.029 W/(mK)). Fiberglass and epoxy resin skins provide strength, impact resistance and weatherproofing. This combination of materials gives structural strength and high thermal insulation. The completed "Igloo" weighs only 1300kg and can be dismantled into five easily transportable parts.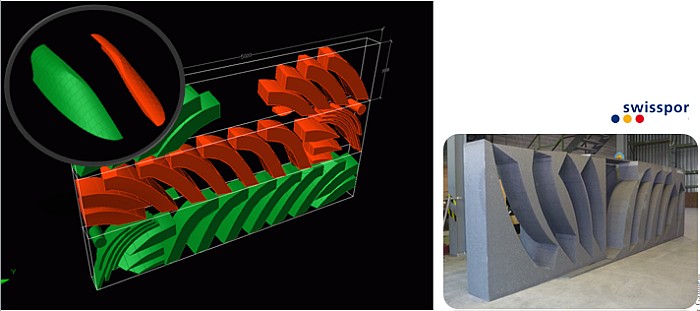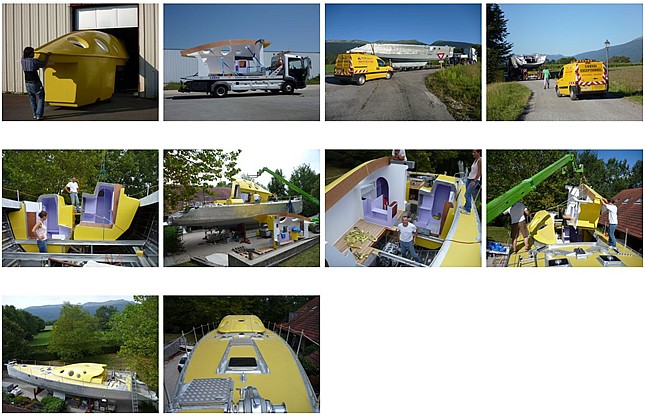 Photos (c) Peter Gallinelli : igloo transport with Larag SA and assembly - July 2012
---
Specific equipment
High perfromance thermal insulation
High performance glazing
Heat recovery from exhaust air
Electric cabin heating and Diesel backup
Cockpit heating system (hot air from engine)
Winter entrance
Reinforced hull plates
Reinforced structural crossbeams
Pivoting rudders with safety fuse
Single reinforced hull fitting
3 watertight compartments
Air-cooled engine
Onboard composting unit

Two self-righting liferafts
Emergency beacon (EPIRB)
Radar, AIS, GPS
HF receiver, weather-FAX / NAVTEX
Handheld, station VHF radio, 4 walkie-talkies
Two 1.5kW wind generators
200Wp solar panels
0.4 and 1.8kW inverter
Two ice poles
Ice drill, saw, pick
Piolets, crampons, two pulkas
Drysuits
---
Manufacturers, suppliers
Design : Peter Gallinelli - concept.pg
Metal work: Dujardin Icofrance
Composite : DIY
Outfitting : DIY
Rigging : Sparcraft
Sails : Voiles Gautier associés
Deck fittings : Anderssen (winchs), Ronstan (rails), Antal (blocks)
Deck panels and portholes: Goiot
Windlass: electric 1700W, Lofrans
Anchors : 2x40kg + 100m chain 12mm, FOB
Engine : Diesel 3.5 litres, air cooled, Deutz
Transmission : hydraulic, Technodrive
Batteries : liquid, 6 x 4V 650Ah, Rolls
Thermal insulation : expanded/extrudes polystyrene, swisspor
Glazing : triple glazing, U = 0.5 W/(m2K), AGC
Epoxy system : epoxy, Axson
Paints en finishing: PU, Asmedia
Electronics : B&G
---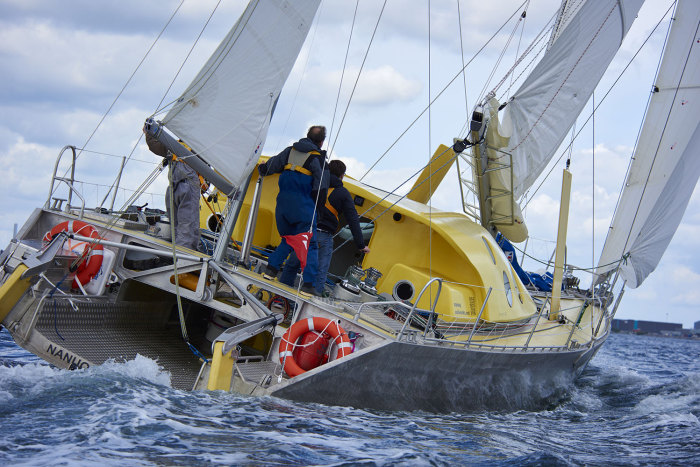 Photo: Grand Integral - full speed ahead (photo © Michael Amme 2015)