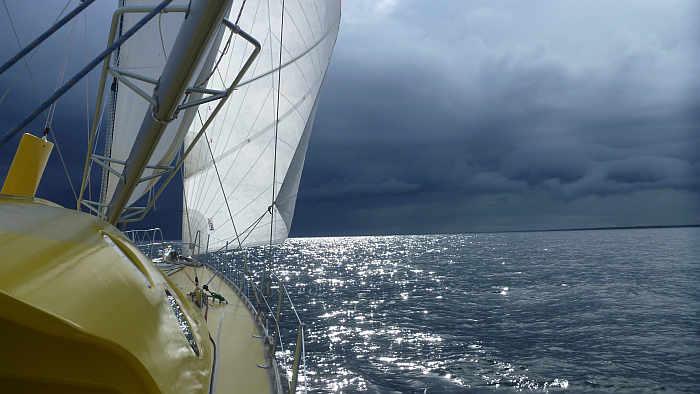 Nanuq, heading north - Gulf of Botnia
---
---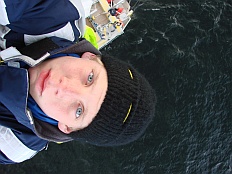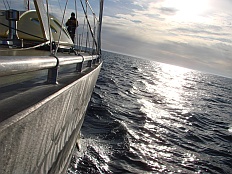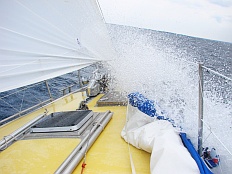 Photos: selfportrait at 20m above the deck - sailing gulf of bothnia - beating our way south - Vasily S. 2015
First leg of the season to convey Nanuq from Umeå / Gulf of Bothnia to Copenhagen, port of embarkation for the expedition 2015/2016: 750 nautical miles in straight line, 890 actual miles because of continuing contrary conditions forcing us to beat against wind and currents for 6 days. An excellent appetizer and an opportunity to test the boat and crew after a winter spent in the Scandinavian ice ... and at office. Only one seal of the diesel system played tricks. This was also a great opportunity to list improvements to comfort in anticipation to possible rough conditions and a numerous crew this summer.
As for the departure from Umeå, the morning brought us a last snow shower, quickly replaced by bright but still cold sunshine. All members of the sailing club Umea Segelsällskap [1] were gathered to wish good luck to Nanuq, accompanied for the occasion by the local press and TV. A beautiful moment of sharing and friendship and invaluable hands to resolve some of the remaining technical details. Hope to come back to Obbola!
During the final weeks of preparation, Nanuq will be waiting on her mooring overlooking Øresund bridge that connects Copenhagen to Malmö, eager to sail North, for good!
[1] Bredvik : http://wikimapia.org (63.684287° N 20.303228°E)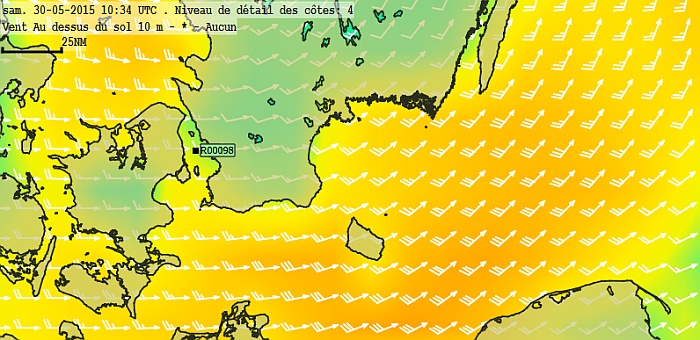 GRIB file : day of our arrival southern Sweden : contrary winds 20-30 knots (see beafort scale)
---
Science on board 2015 (24th of April 2015)

Photo credits : oceaneye - manta trawl and microplastic samples

The passive igloo - a yacht dedicated to adventure and science

The passive igloo offers accomodation to master students, doctoral students and researchers motivated by an interest and passion towards research in the Arctic regions, whether sailing in the summer during escorts or during Arctic winters during which the vessel is stationary in the ice.

Several scientific partners are enroled : Météo-France, Oceaneye, University of Brest, University Savoie Mont Blanc, INRA and University of Geneva. Topics of study cover weather, climate, biodiversity and pollution of the oceans. The passive igloo is also involved in Isaaffik, a new gateway connecting Arctic research, education, consultancy and logistics.

Read more...
---
The 'passive igloo' on Isaaffik (13 April 2015)
Isaaffik is a new web platform and gateway connecting Arctic research, education, consultancy and logistics. The 'passive igloo' is proud to be associated with arctic research by offering logistics to international research teams. Visit : http://www.isaaffik.org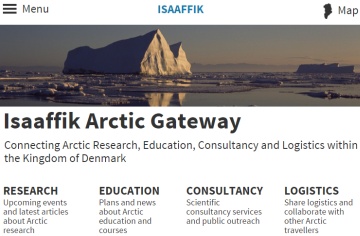 ---
Nanuq in her ice cradle (1st of April 2015)
This is no April fool: free water is only 30 meters away from Nanuq. Everything happens for the best under the watchful eye of our Swedish friends in Bredvik Harbour (Obbola).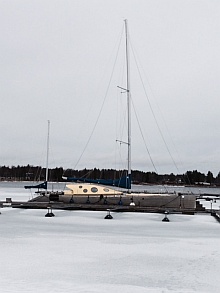 Photo credit : Martin E.
---
Thursday 12th of March, the Melise (the student organisation at the Institute for Environmental Sciences at the University
of Geneva) organises an information and presentation session for students interested in associating their passion for science and environment with the passive igloo: the flyer with more details... (f)

---
Media & media (10 February 2015)
Discover our new photo walls:
Testing 360° imaging, some from our Drone (views of our basecamp).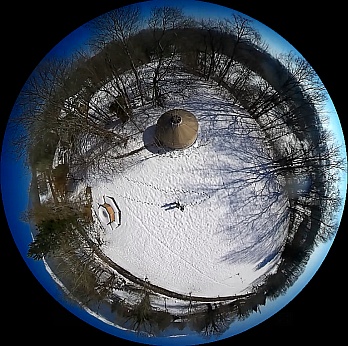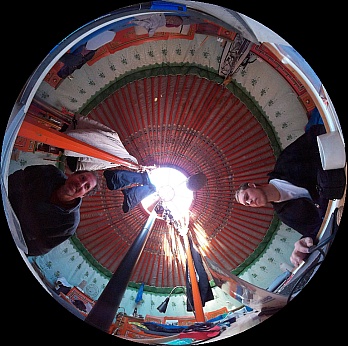 ---
Partnership with Oceaneye (10th January 2015)
We are pleased to announce the collaboration with the Association Oceaneye to collect seawater samples in 2015 and 2016 in the polar regions of the northern hemisphere.


Photo: microplastic sampling © Oceaneye - 2014
Oceaneye is a non-profit organization based in Geneva and founded in 2010 by a committed team of people passionate about travel by sea and blue water sailing. The goals of the Organisation are:
to participate in raising collective awareness of the problem of water pollution, especially marine pollution by plastic,
to contribute to the study and analysis of the problem, its causes and effects following a scientific approach.
Pascal Hagmann, Oceaneye : « This is great news! With the Passive Igloo, we will have samples of the Polar Regions. Beyond the scientific interest, we are very proud to be associated with the Passive Igloo project which will be a real human adventure.»
Peter Gallinelli, Passive Igloo : « Our project also aims to provide a platform to conduct scientific studies. To collect samples for Oceaneye fully complies with this logic and we are pleased to contribute to the knowledge on marine pollution by plastic waste. »
Internet: http://www.oceaneye.eu
---
Kick off 2015 (01 January 2015)
To start with, from now on you will receive real time news from Nanuq in the form of information of particular interest :
Online data are no longer available - sorry!
| | | |
| --- | --- | --- |
| | | Atmospheric pressure hPa |
| Outside air temperature | | °C |
| Cabin air temperature | | °C |
| Cabin air relative humidity | | % |
| Cabin air CO2 concentration | | ppm |
| Sea water temperature | | °C |
| | | nanuq 2015 |
This data is automatically updated every 10 minutes. Last update :
01/01/70 : 01:00:00
The last few days have been busy equipping Nanuq with essential tools that only the northern peoples know how to make: ice pick, ice saw, drill ... all are sharper one than the other. Ice is 'machined' like wood!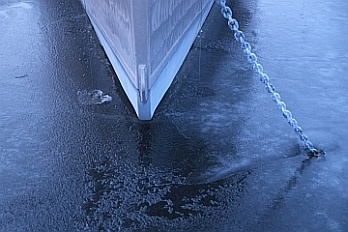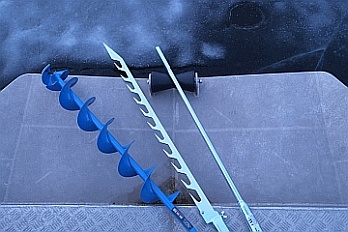 Photo: © Peter Gallinelli - Nanuq - January 2015
After a good -15 ° C the first day, the time has swung to heat and rain. If the magic of snow and ice has long since disappeared, our daily anguish consists of the diminishing thickness of the ice. Further out, large chunks of ice break off and drift away. Soon, we will have to consider to swim to get on land ...
On board, life is comfortably installed. We spend our days between visits, receptions on board, and relaxing moments of reading, writing or development. We feel more and more at home in this little world that has become ours, knowing that it is only a parenthesis.
---
Happy New Year 2015 (31th December 2014)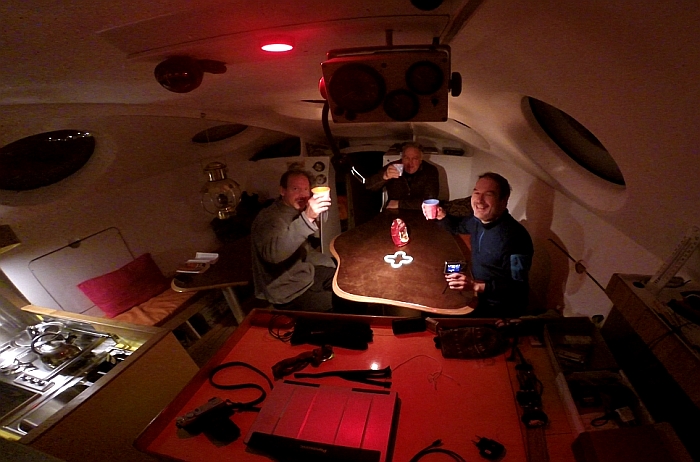 Photo: © Peter Gallinelli - Nanuq - December 2014
The nanuq crew wishes you all a Happy New Year 2015 - Cheers !
---
Ice ... at last! (30th December 2014)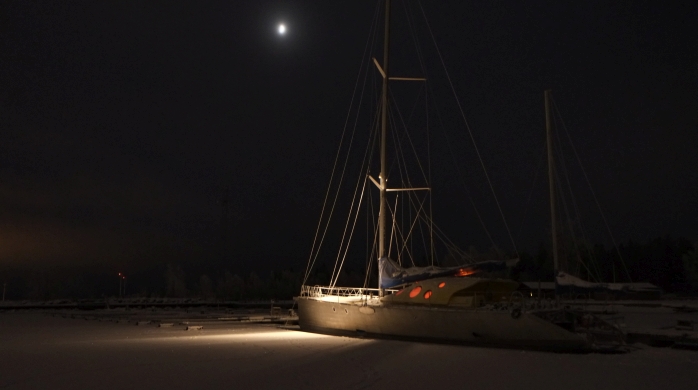 Photo: © Peter Gallinelli - Nanuq - december 2014
Nanuq performs in the newly formed ice.
After traveling to northern Europe accumulating delays due to snow and a night travel by bus we finally arrive on board. Outside temperature is -18°C. In the absence of life on board the cabin air temperature is still above -5°C thanks to the water close to 0°C under the 15cm of fresh ice. The sun rises with difficulty a few degrees above the horizon before sinking again. After a fantastic welcome by our Swedish friends and getting various systems and the little wood stove to work, we settle for a week on board and to initiate a year that promises to be rich in encounters and discoveries.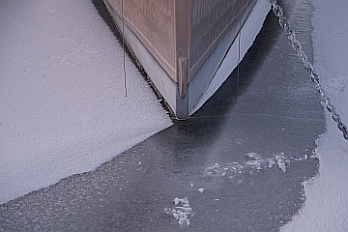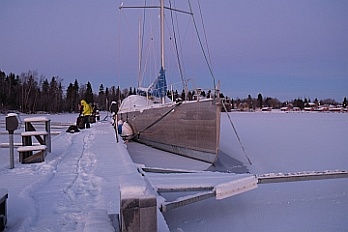 Photo: © Peter Gallinelli - Nanuq - December 2014
---
Waiting for winter... (08th December 2014)
Frantic preparation, the base camp is installed in the Yurt.
While waiting for the winter - Switzerland is a hot country - check the current weather on wunderground:
| | | | |
| --- | --- | --- | --- |
| Station | Altitude | Latitude | Longitude |
| | 463 m | 45.93 °N | 6.11 °E |
| | 7 m | 63.79 °N | 20.28 °E |
| | 138 m | 64.09 °N | 21.82 °W |
| | 86 m | 64.19 °N | 51.68 °W |
| | 61 m | 72.69 °N | 77.97 °W |
| | 77 m | 76.53 °N | 68.75 °W |
---
Voyage 2014 part 2 : Lysefjorden - Bottenviken (28th October 2014)
Norway is the country where ocean and mountains meet. An invitation to rock climbing and base-jump, Lysefjorden is the Mekkah for mountain enthusiasts...
Scandinavia from Team Nanuq on Vimeo.
---
Voyage 2014 part 1 : La Rochelle - Norway (21th October 2014)
The first leg takes Nanuq to Morgat for a last hull inspection before casting off into the Irish Sea and a race against time to meet our crew on schedule in Scotland...
France-Norway from Team Nanuq on Vimeo.
---
The long road to the ocean... (13th October 2014)
After a 'transport exceptionnel' from Geneva to La Rochelle and three weeks of intensive last preparations, the boat was eventually launched end of June...
Geneva-LaRochelle from Team Nanuq on Vimeo.
---
Status Seminar 2014 (15th September 2014)
The passive igloo project has been present at the 18th status-seminar : Forschen für den Bau im Kontext von Energie und Umwelt, held the 4. and 5. of September 2014 at ETH-Zürich, Maschinenlabor (poster).
---
Nanuq 2014 : scale 1/1 trial before the big adventure (30th August 2014)
The project has passed significant milestones:
During the winter 2013-2014 a 5-day-5-crew trial has proven that during temperate winters (-5°to +5°C ambient temperature) thermal performance and comfort are adequate without any need of heating. Monitoring of indoor air quality showed satisfactory results and points out the importance not to make use of candles or petroleum lamps.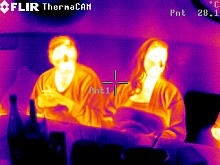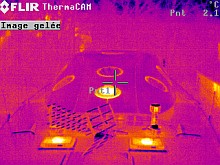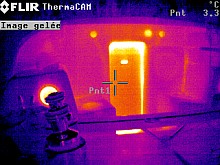 Photo: © Peter Gallinelli - Nanuq - 5d5p - February 2014
The boat has been launched in June 2014 and given a successful 3000 nautical miles trial run from La Rochelle to Gulf of Bothnia where she will go through an ice test during the Scandinavian winter 2014-2015.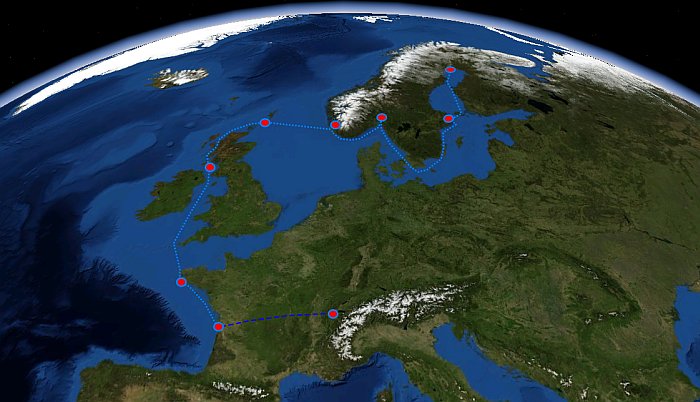 Nanuq - season 2014 - map background © worldwind NASA bluemarble 2014
The arctic winter expedition is planned for 2015-2016. During one year (8-12 months) a scientific monitoring will document the operation and performance of the different systems.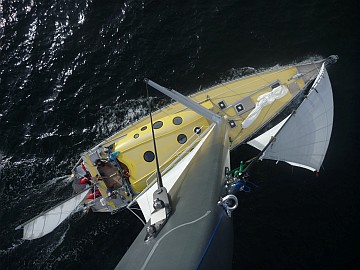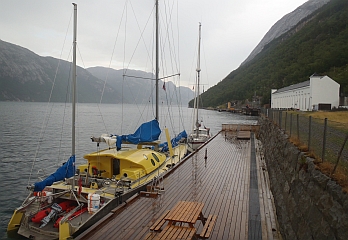 Photo: © Mathilde Gallinelli - 'sailing' - Victor Guillot - 'Nanuq' - July 2014
---
Since the departure from Geneva, we sailed 3000 nautical miles, from La Rochelle to northern Europe via Scotland, the North Sea and Norway. This trial run was essential for the testing of a brand new boat, designed and built for expeditions to the North. Technology choices and innovative systems have performed without significant problems.
At each stop, 'nanuq' generates interest and fascinates the general public as well as experts.
As her predecessors' nanuq sails well and is very pleasant to manoeuver, even for beginners, despite a sturdy construction capable of withstanding the most difficult sea conditions and ice. Fast, the boat provides good performance, reaching an average speed of 10 knots and even a peak of 19 knots. Safe and secure in strong wind and rough sea, 'nanuq' is very handy to sail due to its efficient rigging split into several sails. Also the motor proved to be efficient.
Comfortable and friendly, one lives as well as at home. Cohabitation is convenient for a crew of 8 to 10 during legs of 2 weeks. With its enhanced thermal insulation, the bright living area is a friendly place, always warm and dry regardless of weather conditions, even without heating. The big outside cockpit allows the crew to enjoy the sunny days and fresh air.
The shallow draft (1.4m) allows us to access bays, fjords, and other remote spots, sometimes moored against rocks and trees. It opens the door to a world of adventure and discovery of lands not yet charted; especially thanks to the rib which is easy to use since it is stored inflated in its garage. This vast area also allows storing kayaks, surfboards and organizing barbecues ...
The experience gained during this season let us consider sailing to rough and remote places. This coming winter in Scandinavia will be used to test the boat in a situation of cold and ice, as well as to prepare the expedition and the scientific projects that will be embarked in June 2015-16 for the far North.
Adventure to be continued ...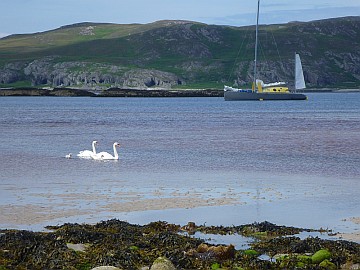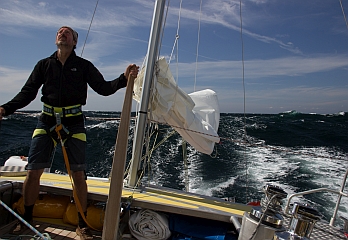 Photo: © Peter Gallinelli - 'Jura' - Victor Guillot - 'full speed' - July 2014
---
It's been a long way, but there we are! (June 2014)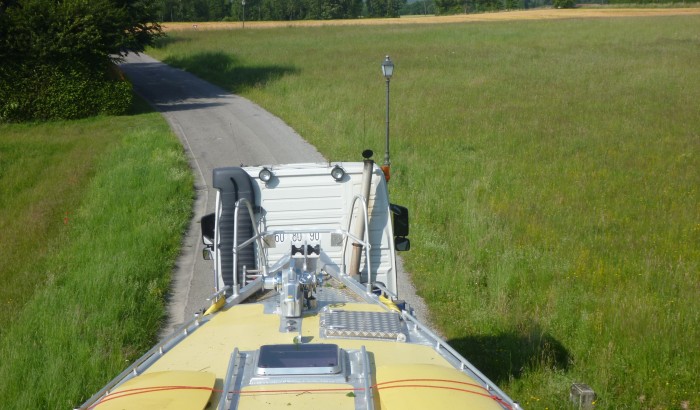 Nanuq - on the road : at last (photo Peter Gallinelli)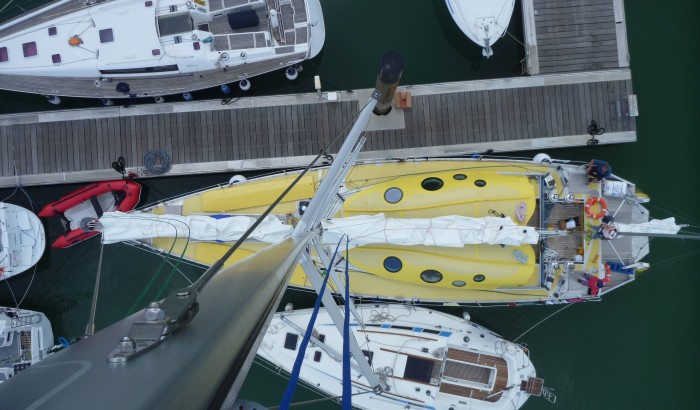 Nanuq preparing to sail : La Rochelle 2014 (photo Peter Gallinelli)
"Don't let your fears stand in the way of your dreams."