Nanuq 2018 : Polarquest
Photo Mike Struik
Nanuq 2018 : Polarquest - Iceland - Greenland - Svalbard
---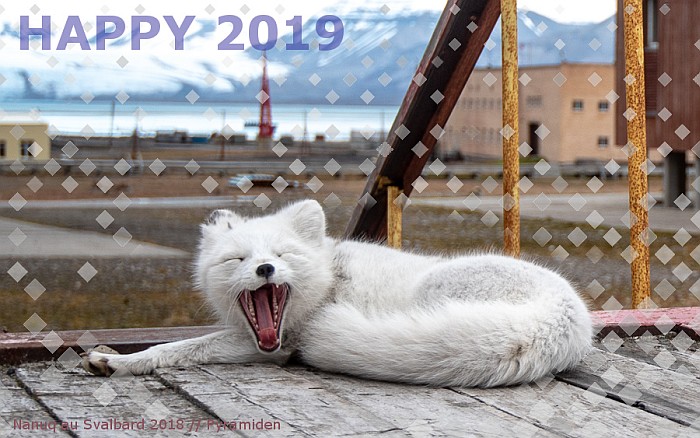 Photo Mike Struik // Pyramiden, Svalbard, 2018
The whole Team Nanuq wishes you a healthy and happy 2019.
---
December events (december 12, 2018)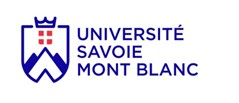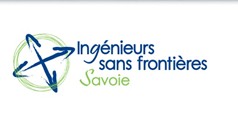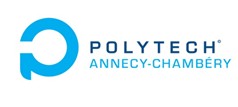 Conference with 'Ingénieurs Sans frontières - Savoie'
December 12, 2018
Feedback from three polar missions
Université Savoir Mont Blanc, Technolac
Peter GALLINELLI - mission leader
Frédéric GILLET - scientific coordinator
Passive housing in extreme environments, Arctic pollution, microplastics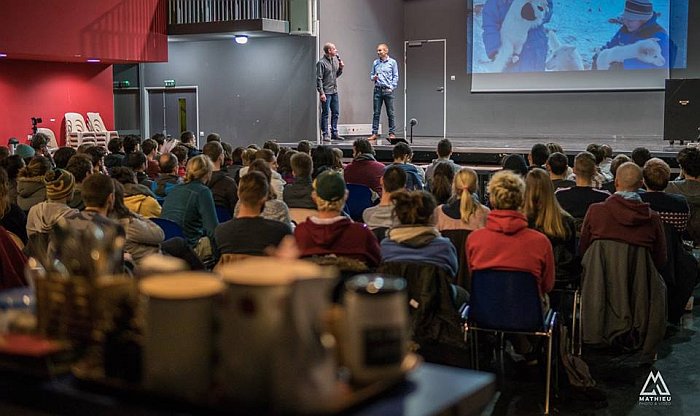 Peter and Frédéric on the stage (photo Mathieu)
---
November events (November 19, 2018)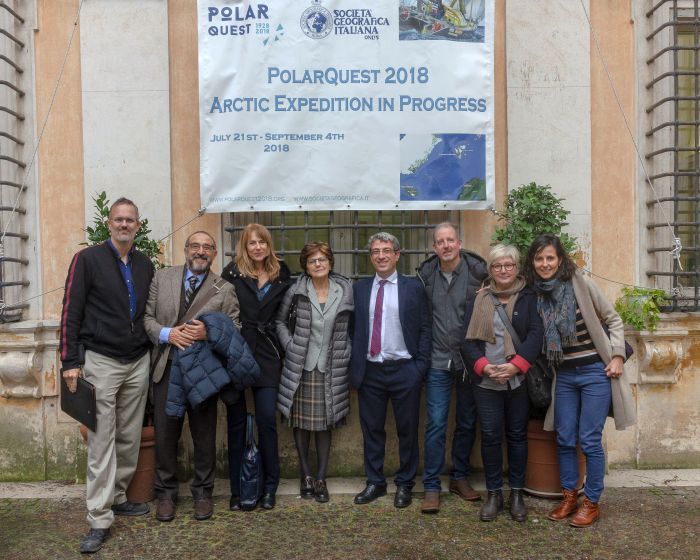 Team PolarQuest 2018 at the Italian Geographical Society in Rome
Italian Geographical Society, Rome, Tuesday, November 27
Scientific results and geographical perspectives.
Aviation Museum Vigna di Valle, Rome, Wednesday, November 28
Historico-scientific workshop at the occasion of the 90th anniversary of the Nobile expedition to the North pole.
---
Update : science on board (November 13, 2018)
The passive igloo provides logistical support, a base camp and floating laboratory for researchers motivated by an interest in research in the Arctic regions, whether for scientific stays in otherwise inaccessible places, navigation or during the the winter, when the boat is caught in the ice.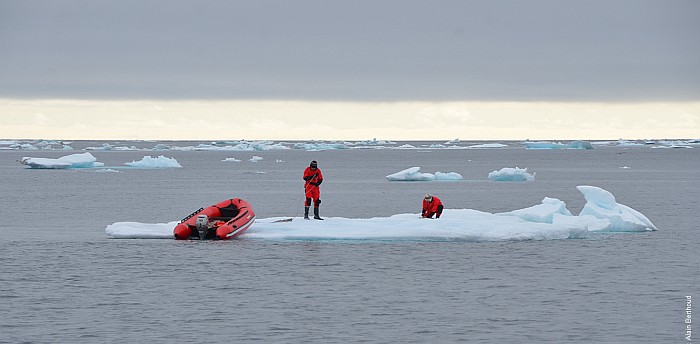 Visit of otherwise unreachable places, ideal logistical support for Arctic research (photo Alain Berthoud)
An inventory of scientific projects carried out since 2015 is now available on this page ...
---
Wintercamp in Fjordcamp (October 29, 2018)
The season is coming to an end.
After a short autumn cruise, Nanuq has arrived in her winter camp in the dazzling Vesteralen, not far from the Lofoten Islands. The first ice covers the fjords, the sky is clear and while the low sun still warms at noon, the nights are crisp with temperatures close to -10 °C.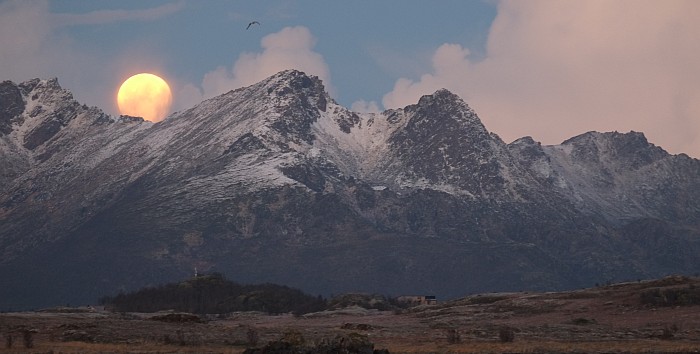 Moonrise in Vesteralen (photo Peter Gallinelli)
We are warmly welcomed in Fjordcamp where our place is reserved to spend the winter. The site is well organized with cozy cottages and hot showers. The reception is very warm. We are surprised to see no visitors in this fantastic season of colors and change.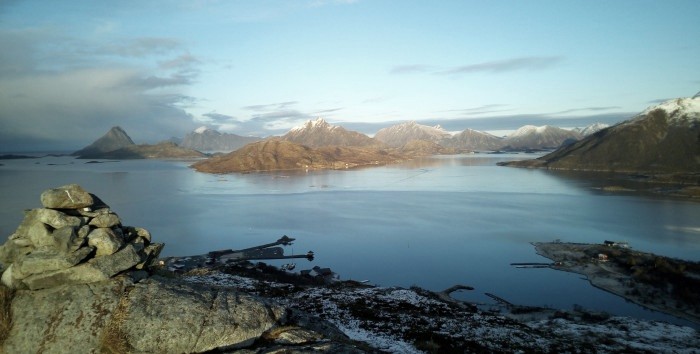 Fjordcamp seen from the hill above the fjord (photo Peter Gallinelli)
After five days of setteled weather and sunshine, it is snowing. Nanuq is waiting for the adventures and projects to come. She is counting on you!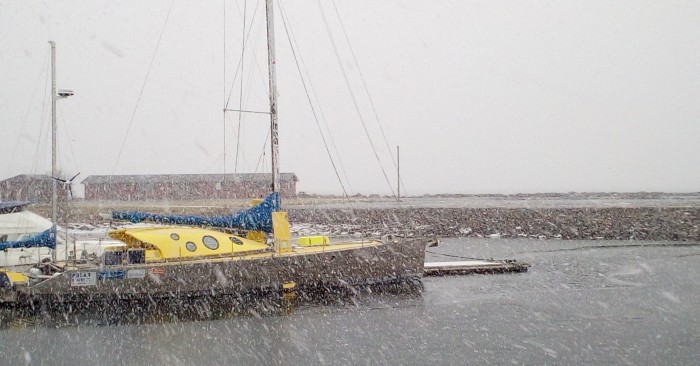 Nanuq ready for winter in fjordcamp.no (photo Peter Gallinelli)
Nanuq is waiting for next seasons projects to come. If you would like to join the adventure, get invoved > contact.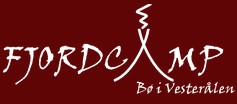 find out more...
Keep in touch, Peter
---
The passive igloo, explications (October 08, 2018)
Images: Peter Gallinelli, Kalle Schmidt, Dorothée Adam Réalisation: Dorothée Adam
---
CERN photo exhibition (September 21, 2018)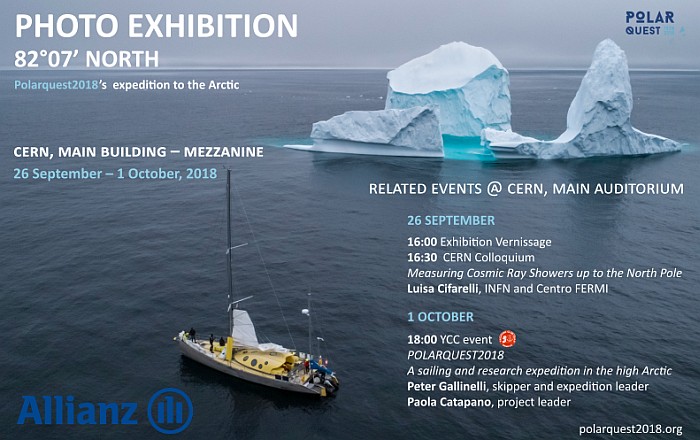 ---
Sustainable development, hepia (September 20, 2018)

Back from the Arctic expedition, the opportunity was given to share the observations made on Nanuq at the edge of the Arctic ice shelf and to raise awareness of a major environmental issue. During a week dedicated to sustainable development, a student workshop focused on microplastics. Below an installation made by the students from waste collected during an observation and cleaning campaign on the banks of the Rhone: the problem has no borders!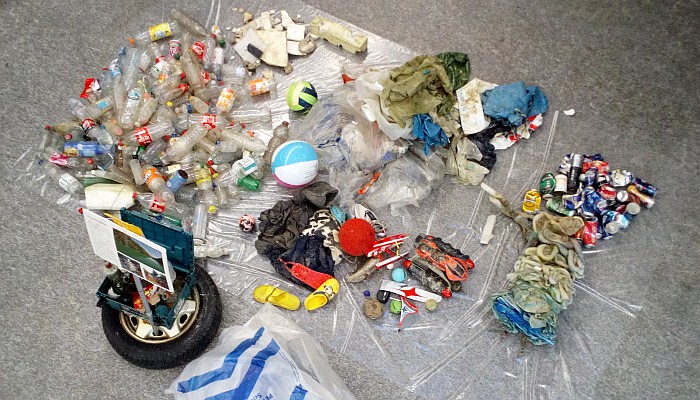 Photo Peter Gallinelli
---
Nanuq en route, expedition 2018 (August 20, 2018)
Dear Nanuq friends, the english part of the news are not available. Please come back later or have a look at the french part here.
Planned route, 2018 expedition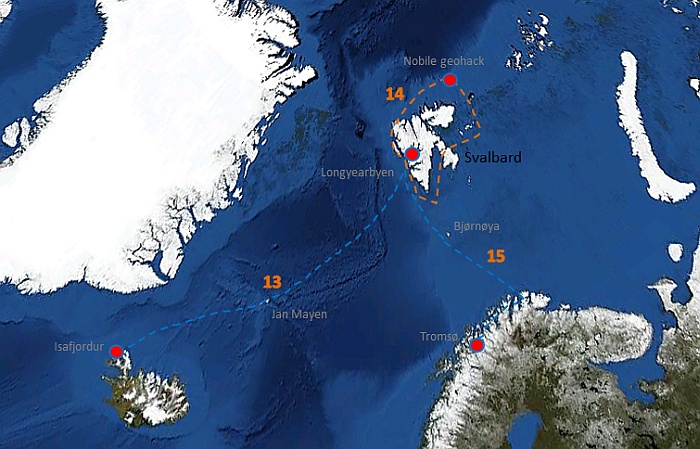 Leg 13 : 1200 NM : 12 days : crew 10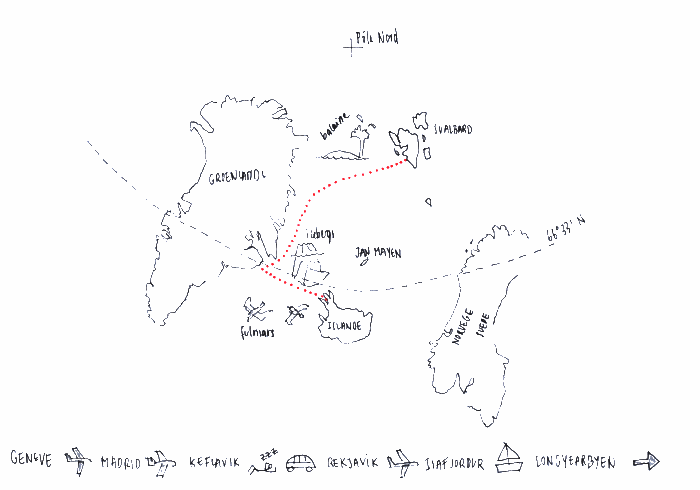 Leg 14 : 1500 NM : 21 days : crew 10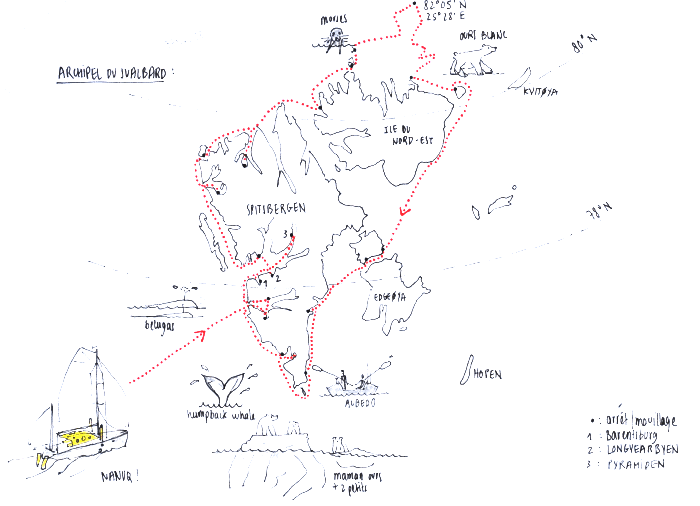 Leg 15 : 900 NM : 11 days : crew 10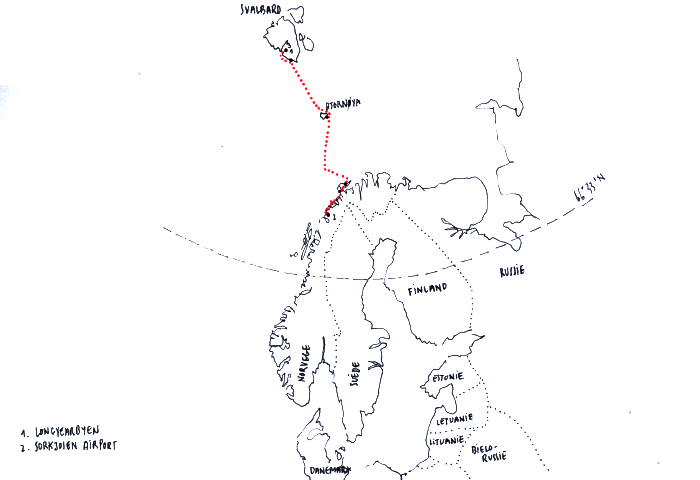 Drawings : Mathilde Gallinelli-Gonzalez
More news: visit Polarquest2018.
Best wishes, Peter & Crew
---
Agenda 2018 online (February 12, 2018)
2018
The days are getting longer and the summer of 2018 is fast approaching. You will find the agenda of the season to come by following this link ...
---

: older articles ...