---
Funding of each leg is provided by the participants. In other words, the contributions to costs must cover the actual costs incurred. Are covered: participation to the costs of operating the boat, maintenance and repair costs, insurance, nautical documents, provision- depreciation and amortization of property belonging to the association (safety equipment, dinghy).
The costs of the legs are defined in the agenda. Children up to 15 years may ask for a 50% discount, students my obtain a special discount.
The same costs apply to all crew members, boat owners and skipper included. These are real costs. In average, the club does not make any profit. Given that the club must break even, the cost of the travel can only be known accurately at the end of the season when the final price of the trip can be computed and adjustments made if nesessary.
To this price, one has to add the travel to reach the boat and to return home (see here below) plus expenses for food, drinks, harbour fees - together around 10-20 CHF per day. Dining out, land activities, shopping, and the costs of individual communication are not supported by the association.
The down payment for reservation of a leg is 600 CHF, and 300 CHF for each additional leg. The advance is used by àCAPela to purchase charts and other collective equipments needed for the expedition. The balance is payable 6 weeks before boarding.
---
If you've not already done, please get in touch : contact
Anyone directly or indirectly participating in the activities that are organized by the Association shall be a member of the Association. This is the time to become a member of the Association.
To apply for membership: sign and send the application form, get in touch.
To make reservation for one or more legs : send the application form to the secretariat and make the subscription fee payment available to the Association (CHF 600.- + 300.- per additional leg).
This amount is deducted from the participation fee.
To take part : send the form for participation and make payment of the balance of the participation fee no later than six weeks prior to boarding.
Prepare your marine-mountain-adventure duffle bag: see the equipment list below.
Report to the port of call in the morning before noon local time on the day of boarding.
The application forms will be sent tou you by mail.
---
Norway is easily reached by plane for a cost of 300 CHF one way.
The Faroe Islands are accessible by plane, starting from 300 CHF one way.
Iceland is accessible by plane, starting from 400 CHF one way.
Several daily flights with SAS connect Longyearbyen (Spitzberg) to Oslo. Cost is 250 CHF one way..
For Greenland, best connections are with Air Greenland starting from Copenhaguen or Air Iceland via Reykjavik. Costs range from 500 CHF to 1200 CHF one way depending on destination.
Carbon footprint
While traveling by sailboat can be considered as an environmentally friendly means of transport, it is not the same for return trips by plane!

Consider compensating for your carbon footprint, such as myclimate.org ... sometimes travel by train and ferry is possible.
---
... or how to prepare you luggage :-)
It is highly recommended to travel with a duffel bag: it should be of reasonably size (about 60 liters) and SOFT, allowing easy cohabitation and storage (e.g., a frameless rucksack or Base Camp Duffel from North Face, M size are good choices). A bag with wheels is NOT acceptable. Reasonable weight is 30kg max, supplemented by a small backpack 'hand luggage' (10-15 liters).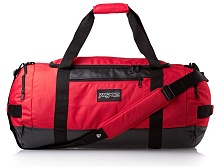 example, the JanSport duffel bag
People wishing to bring equipment that exceeds the recommended volume or weight (scientific equipment, drones, kayaks, sails, skis, ...), must coordinate with the skipper beforehand.
In terms of conditions, you may expect a climate comparable to the Alps between 1500m to 3500m above sea level. The weather can be mild (> 5°C and sunshine), but there can also be fog, wind, rain and snow (last legs). Also, there is a big difference between walking in the cold or standing at the helm for hours.
On land, the crew is moving under its own responsibility. If a walk is no problem, exiting ascents (most recommended) are possible. You must organize the necessary equipment depending on the purpose and itinerary: ropes, crampons, ice axes, belaying, shoes, food, autonomy. A tent is available on board.
The encounter with wildlife must be taken into account according to the places visited (bear, wolf, musk ox, ...), but also whales, seals, belugas, hares, foxes, birds, ... and mosquitoes.
Check list NANUQ (for summer expeditions winter garments do not apply)
Head protection


1x Hat (covering ears, Windstopper tech)


1x Balaclava


1x Mask (winter option)


1x Winter hat (winter)
Hand protection


1x Windstopper gloves


1x Heavy winter mitts (-40°C)


1x Polypropylene glove liners (winter option)
Foot protection


1x Hiking shoes


1x Warm sailing boots (navigation)


1x Sandals / Crocs (summer)


1x Warm slipper (winter)


1x Winter boots (Sorel type -40°C)


1x Gaiters (winter)
(shoes with black soles are not to be used on board)
Socks


4x Thin socks


2x Thick warm socks (synthetic)
Jackets


1x All weather sailing jacket (navigation)


1x Windstopper type jacket


1x Gore-tex type mountain jacket


1x Outdoor down suit - pants + jacket (winter -40°C)
Pants


1x All weather sailing pant (navigation)


1x Polyvalent mountain pants (stretch)


1x Overtrouser Gore-Tex
Clothes


2x Pullover polar fleece


4x T-Shirt


2x Thermal shirts with long sleeves


2x Bottom Underwear (long)


4x Underwear


1x Bath suit
Other mandatory equipment


Sleeping Bag (summer comfort 0°C, winter comfort -20C)


Sleeping bag liner, fleece (option)


Pillow liner (40cm x 60cm)


Headlamp


Travel watch


Knife (e.g. swiss army knife)


Sunglasses


Backpack


Small food bag or box (used to store dried fruit, ...)
Body care


2 x Travel towel (1x big + 1x small)


Lavette


Skin cream (winter)


Sunscreen


Toothpaste


Toothbrush


Soap / shampoo


Personal Meds
Travel documents


As required (passport, visa, ...)


Credit card (VISA, Mastercard)
Options


Waterproof bag (camera, phone, passport, …)


Mountain gear


Thermos bottle


Compass / personal GPS / land maps (required for hiking)


Smart shirt to go out


Favourite music


Reading (reasonable)


Notebook


Camera
... but keep it simple and light : maximum 30kg, 60 litres!
Important


Do not forget to bring a piece of tasty cheese, cold cuts, wine, spirits, treats, home made marmelade, ... according to your tastes, or several, to be shared among crew on a 'headland' :-)
Welcome on board!
---
* * *