Application Design With Climate
Climate responsive design contributes to efficient building design, can greatly improve comfort and quality of life of its inhabitants, increases sustainability and offers a huge potential for energy savings. The passive igloo has shown that passive strategies are most efficient : they allowed us to live in the harsh conditions of the arctic over a full year in good comfort and complete self sufficiency.
Design With Climate is a qualitative design assistant tool. It evaluates numerous winter and summer design strategies as a function of hourly climatic data of a given station at a clic.
Design With Climate is licenced free of charge. So you are free to use and share it with others provided that copies are not made or distributed for commercial advantage.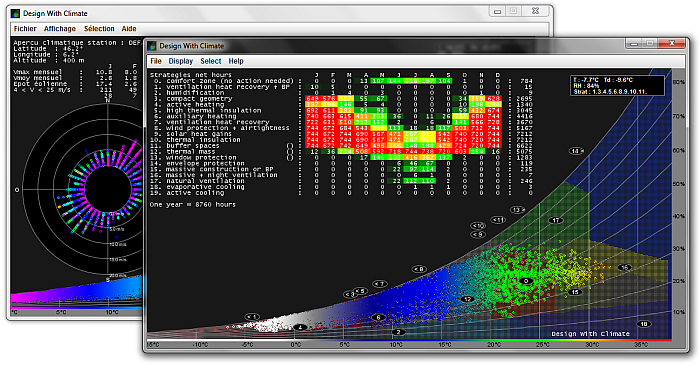 Installation:
Design with Climate is written in Java so and should work on any computer. Just extract the zip file to a suitable location and double-clic the DWC*.jar file to make it start. If nothing happens, you may have to type 'java -jar DWC*.jar' from a console. If it still does not start, check that you have the Java Virtual Machine installed. It can be obtained at no cost from the Java (Oracle) website.
Download:

Download (136 kB) version beta 0.2 (2019)
Note : Design With Climate requires a climate data file of the station of interest. Files of hourly climatic data in EPW (EnergyPlus Weather) format are available on the Internet for hundreds of stations around the world.
Feedback:
This is a beta release. Feel free to feed back. Suggestions are welcome. Contact...
Enjoy :-)
Peter Gallinelli, July 2016
---