---
Leg 2 follow-up : tour around Iceland (July, 15th 2015)
We are making our way around the North Coast of Iceland, discovering its rough coastline interrupted by beautiful fjords. Steap hills with snowed peaks rise on both sides of these fjords, some giving shelter to small fishing villages. We passed caps like Langanes and the Horn, known for the strong currents that flow in their vicinity, the vicious storms and the icy winters. It is a cold summer, the thermometer never over rises above 10°C.

Extract of american 'Pilot Charts'. The windroses show the predominant wind frequency by sector, Tassilaq region in the west.
These past days the wind has predominantly been blowing from the NE, as the 'Pilot Charts' confirm for the month of July. Blowing at speeds up to 25 knots, we make our way steadily towards the West. The weather on the other hand is much less convincing. It is humid, cold and the constant dense fog not only makes our shifts slightly unconfortable but also creates the sensation of being lost in space. We have no reference of moving on, except the hourly GPS-point. The visibility is often of less than 1NM, making the approach into a narrow fjord a tricky maneuvre and the image on our Radar is of great help for a safe landfall. Where is the SUN?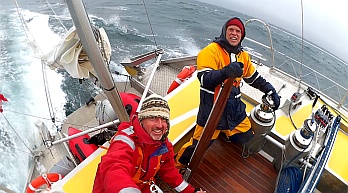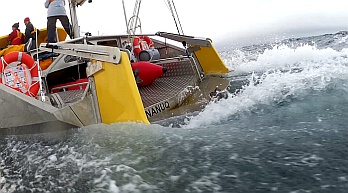 Approach of Isafjordur (credits photo Peter Gallinelli - Kalle Schmidt)
Discovering the N-W fjords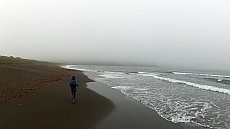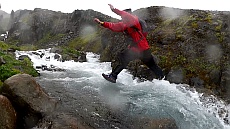 Black sand beach at Hornvik / more or less wet crossing of more than one stream / drying our wet clothes (credits photo Peter Gallinelli)
If there is one word to describe the fjords in NW of Iceland, it would be vastness. It is a wild, continous coastline of rough steap cliffs, mountains reaching to the sea and beautiful beaches of black volcanic sand. One of the most solitary and untouched places in Iceland, they are full of endless possiblities. There are valleys crossed by uncountable little streams, mountains with snow on their peaks and waterfalls of all sizes. The fog adds yet another dimension to this already mysterious landscape, hiding some of nature's beautiful corners. Our hiking is a little adventure for some of our crew. The fog, the rough terrain and the icy streams that we have to cross, are new to some and make each time we leave Nanuq an exciting event. Nevertheless, it is always a pleasure to be able to return onboard our warm and cosy Igloo, completeley soacked, our wet and cold feet screaming for new socks. A cup of warm tea and a little something to eat always brings colour back to our faces.
Whereas human traces are rare in this area, we find from time to time groups of huts. Some of them are inhabited during the summer months, others show the signs of the cold and the wind on their walls. While we can see that it is not a place destined for our species, we are overwhelmed by the abundance of wildlife that is present in this region. We have seen arctic foxes looking for food on the beach, a great number of birds nest in the valleys and cliffs of the fjords, and occasionally a whale sbhows its fin, to the crews delight. From time to time, a group of dolphins follows Nanuq for a while.
We are now heading towards Reykjavik where our next crew will be waiting for us. More to come soon...
Distance since Torshavn : 740 nautical miles
---
Leg 2 : arrival in Iceland (July, 8th 2015)
We arrived early in the morning in the little harbour of Eskifjordur. We started on the Faroe Islands and with increasing winds (up to 30knots) and developing sea, we managed to beat our way over to the East coast of Iceland. Making our way into the fjord, sorrounded by white peaks on both sides, we were received by the kind words of the harbour master: "Welcome to Iceland!...and of course you may use our toilet." - both great news for the crew. During our crossing the temperatures had already dropped considerably, being around 5°C in the fjord. There is no longer need for a refrigerator as the butter, being soft in Norway, is now hard as a rock. Water is at 5°C. Fresh snow at 500m.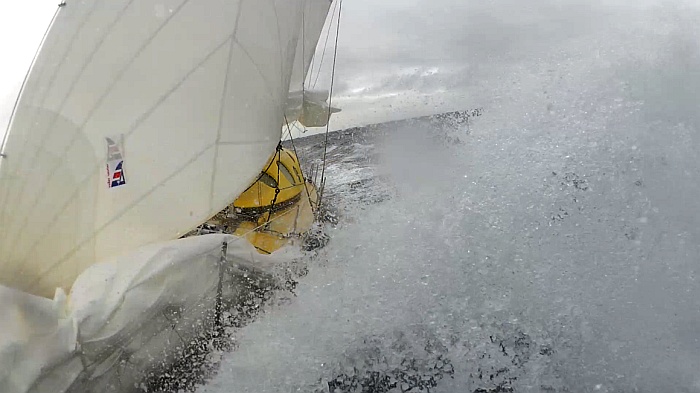 Nanuq sailing full power in near gale conditions (extract from video footage Kalle Schmidt - having a gigantic shower)
Cold wind blows strongly from the North, unusual for this time of the year. We will have to wait till Saturday for the change of weather predicted: 10-15knots from NE. After the formalities with the custom officers we are allowed to step on land and begin our exploration of the fjord and it's sorroudings. Everyone spreads out into different directions. Some decide to explore the valley and town, others head out to do some hiking in the neighbouring mountains. The day is concluded by a relaxing islandic bath in the local swimming pool... sauna and thermal bassins (34-42°C), heated by the earth. Heated to the bones, the crew is happy!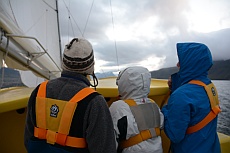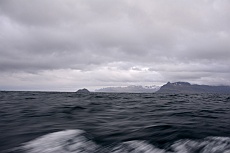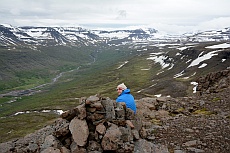 Land in sight / landfall on Island's East coast /view over Eskifjordur (photo credit Kalle Schmidt)
We had a slight problem on our way. During our crossing we hit a floating object with full speed, for our port dagger board is severely damaged. Luckily we don't depend on it and can continue our navigation even if we loose some degrees to drift caused by the missing dagger board. The people from Eskifjordur try everything to help us find solution which will probably be in Reykjavik.
More news to come soon...