The voyage begins here : Copenhagen to the Feroe Islands (July 6, 2015)
Nanuq is making her way through the Northern Sea, towards Fair Isle, a small island half way between the Shetlands and the Orkneys. We sailed up the Kattegat, made our way West through the Skagerrak with strong winds, and passed the oil fields of Norway. The crew is slowly getting used to the wind and waves, some at times still fighting sea sickness.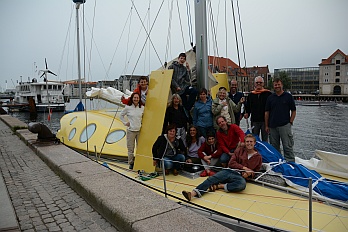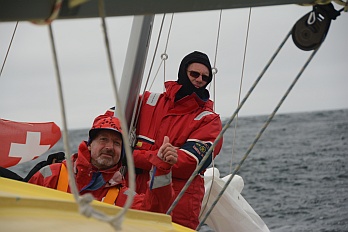 Crew Nanuq with core team in Copenhagen / Sailing (photo credit Kalle Schmidt)
Fair Isle is a wonderful little spot in the middle of nowhere. The Vikings who sailed towards their raids used to call it the "peacefull island". Our crew certainly can appreciate this name. Between hundreds of different birds, some less happy to see us than others, everyone spreads out in different directions. Afterwards a good shower and a cold beer in the local bar of the bird observatory.
Three days later we arrive in Torshavn, capital of the Faroe Islands. We were welcomed by a generaous man, who after asking if we ate fish, came with a beautiful fillet of bacalao and another one of salmon. The crew which will be leaving us still enjoyes the last moments onboard and the hiking possiblities of the outskirts of Torshavn. Whereas the preparations in Limhamn seem long in the past, there are still some ongoing: acquiring scientific equipment, reacquiring of lost packages lost in transaction, etc. We have to think of everything we might need for a year because it will be hard to improvise once we're in the north.
And then there is crew changes: meeting the new-comers, saying goodbye to those we have come to know over the past few days. We have come to know each other but also many others on our way, mainly sailors but also locals to those places we passed as visitors. These were rich encounters which make our travels so worthwhile.
---
Read older articles...